March 2018 News Brief Top
March 2018 GLOBE News Brief
Join the NASA GLOBE Clouds "Spring Cloud Observations Data Challenge" 15 March - 15 April!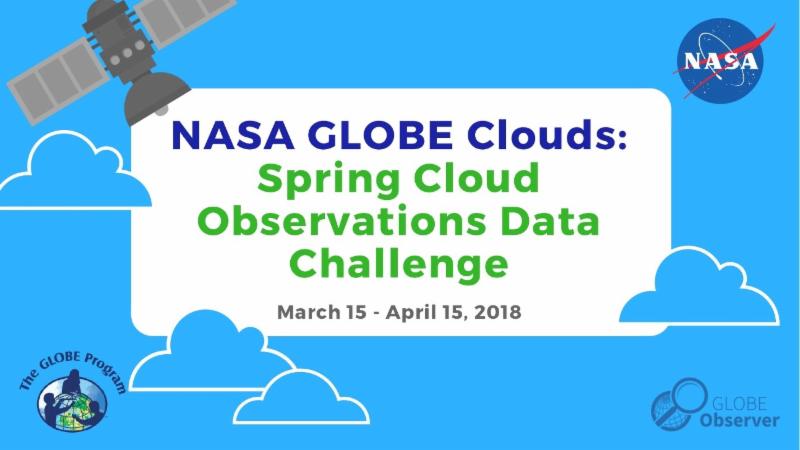 The NASA GLOBE Clouds team at NASA Langley Research Center in Hampton, Virginia, USA, is excited to announce the Spring Cloud Observations Data Challenge. Participants are invited to enter up to 10 cloud observations per day from 15 March through 15 April using the GLOBE Program's data entry options or using GLOBE Observer app. Participants with the most observations will be congratulated by a NASA scientist with a video posted on the NASA GLOBE Clouds website.
To learn more, including how to participate, cloud identification resources and tips, and data collection and data entry help, click here!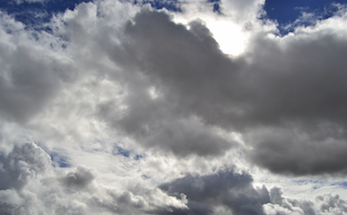 March 2018 News Brief Left
News
Registration Deadline is Fast Approaching for 2018 GLOBE Learning Expedition/Annual Meeting! Space is Limited!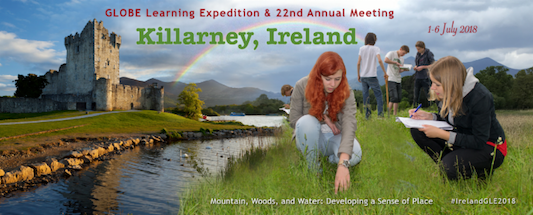 The deadline to register for the 2018 GLOBE Learning Expedition (GLE) and the 22nd Annual Meeting is 16 April! Spaces are filling up fast. Do you need a Visa to attend the GLE? For a guide to help you determine which GLOBE countries need a Visa to travel to the meeting, click here. To request an Invitation Letter from GIO, contact Katy Lackey at lackey@ucar.edu.
GLOBE Students: Be a Keynote Speaker at the GLE!
GLOBE students: Would you like to be a Keynote Speaker? From among the students registered for the GLE, one student from each GLOBE region will be selected to present a keynote address (5-10 minutes). The application deadline is 15 March. (Regional Coordination Offices will make their selection from all submissions and send them to the GIO by 01 April.)
To learn more about the GLE, click here. Keep up with the GLE news on social media: #IrelandGLE2018.
---
It's Time Once Again for the GLOBE Urban Heat Island Effect/Surface Temperature Student Research Campaign: 01-30 March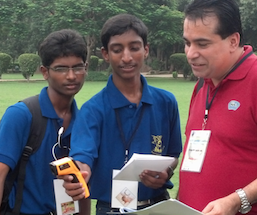 The Northern Hemisphere Spring and Southern Hemisphere Fall Urban Heat Island Effect/Surface Temperature Field Campaign has begun! It will run from 01-31 March. It is time once again to collect observations of surface temperature, clouds, and snow – and add to the extensive data set that students and scientists, including Dr. C (Professor Kevin Czajkowski at the University of Toledo) can use to study the urban heat island effect. Whether you are at an urban school, suburban school, or rural school, your observations are vital to this campaign.
To learn more about the campaign, including what data to collect and when, and what to do and how to do it, click here.
---
GLOBE Thanks Everyone Who Submitted Reports for the 2018 IVSS
Judging Webinar on 16 March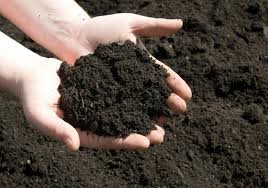 GLOBE would like to sincerely thank everyone who dug deep into the questions and the research and – submitted their reports to the 2018 GLOBE International Virtual Science Symposium (IVSS)! Your work, and your dedication to the scientific s is a step forward for all of us on this planet. The Informational Judging Webinar for the IVSS will take place on 16 March at 10:00 a.m. MT/12:00 p.m. ET. (Participants should save this link and join on the 16th.) The webinar will be recorded and shared with all judges. Here are some important dates to keep in mind:
Here are some important dates to keep in mind:
Reports and presentations due: 01 March 2018
Judging webinar: (TBD)
Judging period: 18-24 March 2018
Feedback and virtual badges released: 06 April 2018
Live drawing for stipends: 06 April 2018
Thank you for your contributions to research and science!
---
Keeping Up with the Phase III ENSO Campaign? Then Join These March Webinars!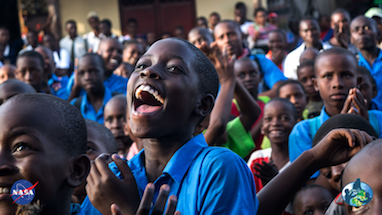 08 March (1:00 p.m. EST/18:00 UTC): Science and Research Webinar "Connections and Collaboration"
During this webinar, participants will hear from GLOBE students who work with Mrs. Audra Edwards in Hawkins, Texas, USA, and from two groups of GLOBE students in Nigeria. Dr. Oluwafemi and his students will join us from Jos, Central, Nigeria; and Dr. A.S Akinwumiju and his students will join in from the southwestern part of Nigeria. These students will give participants a glimpse of what their school looks like, and will share pictures of their local environment and information on how they have used GLOBE protocols to learn about water in their environment this year. To join this webinar, click here.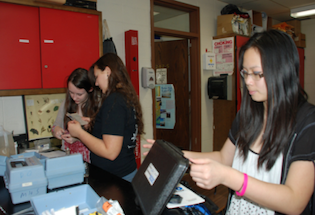 22 March (1:00 a.m. UTC, 23 March): SODA Webinar "Transitioning from Data to Action: The Genesis Project"
During this webinar, participants will hear from Bob Connick, a recently retired teacher (and GLOBE teacher since 2009), who has been working with students and educators since 1999 to take measurements within the New York, USA, watershed. Through the water measurements taken, a grant was awarded to fund "The Genesis Project." The students took water quality information using GLOBE protocols as part of their local ecosystem measurements. The data indicated that the water quality in the stream was impaired. The student presenter will be Emily Pope (now a student at Nova Southeastern University).To join this webinar, click here.
To learn more about Phase III of the ENSO Student Research Campaign, click here.
To receive emails and webinar announcements, click here.
---
U.S. Student Research Symposium Updates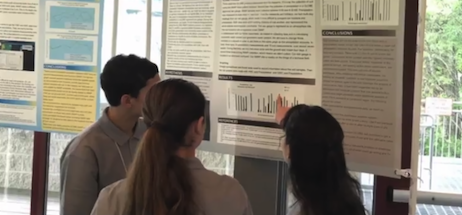 U.S. Teachers: What is the 2018 United States Student Research Symposia (SRS)? Why should you bring your students to one? Is it the same as a Science Fair? Watch this two-minute video and learn more about the SRS. Or read this flyer, which explains it all!
SRS Webinar: "Giving a Poster Presentation/Open Office Hours" will be held on Monday, 05 March at 7:00 p.m. ET. This webinar will be hosted by Kiley Remiszewski and Clarice Perryman, PhD students in Natural Resources and Earth Systems Sciences at the University of New Hampshire. As a participant, you will hear tips and tricks designed to help students prepare for a poster presentation, and stay on the line to ask questions. To register for this webinar, click here.
Have a question about Student Research or SRS? Ask the Hotline Team! Fill out this short form and you will be connected with an experienced GLOBE teacher who can help!
For the latest information regarding SRS webinars, blog posts, and resources click here.
---
GLOBE Instrument Shelter Installed at Foreign Service Institute in Virginia, USA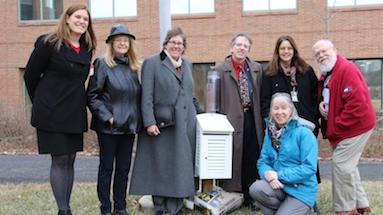 From left to right: Kristin Wegner, Project Manager, GLOBE Implementation Office (GIO) and United States Department of State; Lyn D. Wigbels, International Coordinator, GIO; Kathleen Morenski, Director of Economic and Commercial Studies Division, FSI; Dr. Tony Murphy, Director, GIO; Dr. Lin Chambers (kneeling), Director of The GLOBE Program at NASA Headquarters; Deborah Klepp, Special Advisor, Bureau of Oceans and International Environmental and Scientific Affairs (OES); and Jim North, Dean, School of Language Studies.
On 02 February, a GLOBE instrument shelter was officially installed at the Foreign Service Institute (FSI) in Arlington County, Virginia, USA. The shelter was donated by NASA to the United States Department of State to benefit Earth Science Technology and Health (ESTH), public diplomacy, and language students. FSI is the government's premier foreign affairs training provider.
The new GLOBE/FSI shelter will serve as an interactive way to teach students in FSI's language and professional courses about the environment. Students can use the shelter instruments and barometer to take weather readings. Training on the equipment will also help students serve as mentors for The GLOBE Program in their eventual overseas assignments.
GLOBE is happy to welcome FSI to our worldwide network of over 31,000 GLOBE schools, and thousands of citizen scientists, reporting on the environment.
---
---
Connect With Us
The GLOBE Program depends on you to let us know what is happening in your regions, countries, communities, and classrooms. Send us news you would like to share with the GLOBE Community and we'll include it in next month's News Brief. Be sure to include photos, too.
Send your message to communications@globe.gov
Be sure to follow us on social media! Just click on the icons below.
---
News Brief Archive
All past issues of the GLOBE News Brief are available in the online Archive.
March 2018 News Brief Right
U.S. Community: GLOBE Mission EARTH Satellites Student Conference on 01 May (Toledo, Ohio, USA)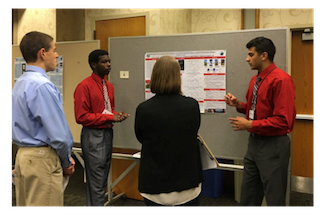 U.S. Community (K-16 students and their teachers): Join the GLOBE Mission EARTH Satellites Conference on 01 May (8:30 a.m. to 2:30 p.m.). The event will take place at the University of Toledo in Toledo, Ohio, USA. Register by midnight on 11 April to qualify for a $10 student scholarship (after this date, a $10 student fee will apply).
At this event, students will present their research papers in a poster session. Awards will be given to the best research projects in each grade category. GLOBE Mission EARTH is a collaborative of multiple institutions across the United States formed to increase involvement in The GLOBE Program. The mission is to improve education and involvement in science, technology, engineering, and mathematics (STEM) by increasing participation of students and citizens in The GLOBE Program.
To register for the conference, click here. For more information, contact Sara Mierzwiak at sara.mierzwiak@rockets.utoledo.edu.
---
YLACES Offers Awards, Scholarships, Grants, and Support for U.S. Science Education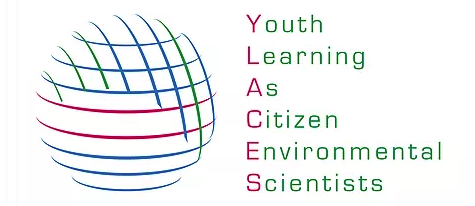 Youth Learning as Citizen Environmental Scientists (YLACES), based in the United States, offers awards, scholarships, grants, and support – all to assist and reward the implementation of inquiry-based, experiential science education where students do science and contribute to the understanding of our natural world.
Grants range from support for taking simple measurements to teacher professional development and working for pervasive inclusion of student research projects in science teaching. In addition, support is provided for prizes recognizing student achievement and effective teaching; for the infrastructure necessary for contributing, storing, and sharing data and methods; and for science fairs/symposia that assess student work. (Are you a member of 4-H or Girl Scouts? YLACES offers grants for equipment to individual chapters, councils, and State organizations.)
---
Opportunities for U.S. Teachers
U.S. opportunities are often highlighted in the News Brief simply because we are more aware of them through our local media; however, if there are opportunities for GLOBE students and/or teachers in your region you would like us to highlight in the coming months, please send the information to communications@globe.gov.
NASA STEM Educator Webinars