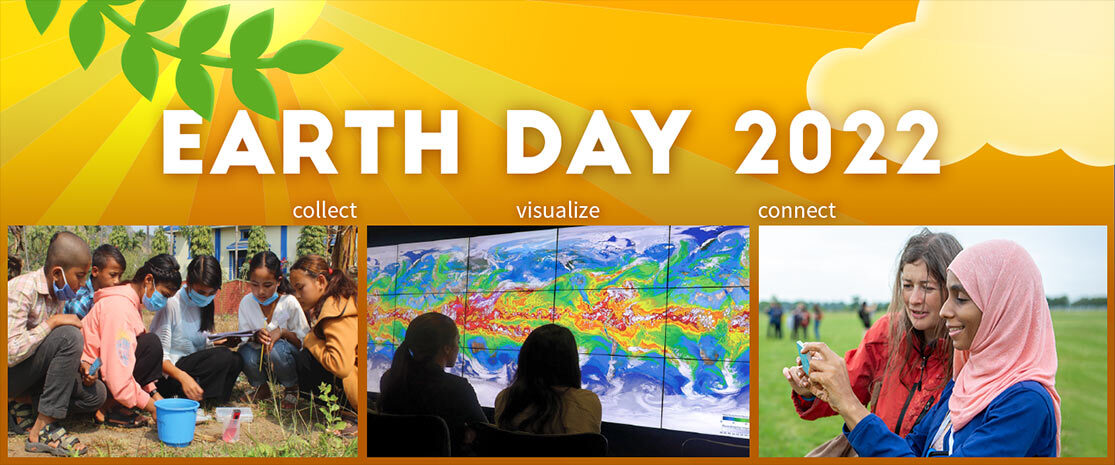 Celebrate Earth Day with GLOBE

Earth Day marks the 27th Anniversary of The GLOBE Program. Come celebrate with GLOBE! Visit this page on Earth Day, 22 April at 9:00 a.m. MDT (15:00 UTC) for GLOBE's annual Earth Day broadcast.
Find out what time the stream starts in each area.
 
---

The GLOBE Earth Day Broadcast
Closed Captioning

To turn on closed captioning in a specific language:
Play the video.
If captions are available, the "CC" icon will be visible on the bottom right of the video player.
To turn on captions, click the "CC" icon.
To turn off captions, click the "CC" icon again.
For more information on YouTube closed captioning, visit the YouTube Support page.

Agenda

Earth Day events this year will feature:
Opening remarks: GLOBE Program Manager, NASA Headquarters, Dr. Allison Leidner will start the celebration.
Video: There will be a special presentation for the GLOBE community.
2022 International Virtual Science Symposium Drawing: Student teams from each region who have successfully participated in the International Virtual Science Symposium will be entered into a drawing to receive admission to the virtual 2022 Annual Meeting and a stipend for purchase of science equipment for their classrooms.
Data Collection Results: The results and featured photos/visualizations from the Air Temperature Data Challenge will be shared with the community.
GLOBE Student Vloggers: The 2022/2023 GLOBE Student Vlogger cohort will be welcomed into the community.
Closing remarks: Globe Implementation Office Director Dr. Tony Murphy will share closing remarks.
---

Air Temperature Data Challenge
Did you participate in the Air Temperature Challenge? To celebrate Earth Day 2022, the GLOBE Implementation Office invited GLOBE students to participate in a global Air Temperature Data Challenge. The challenge encompassed a series of activities, starting on 25 March, that gave students the opportunity to engage in a global data collection and interpretation event. The challenge's objective aimed to:
collect air temperature data measurements simultaneously around the world;
visualize data with graphs or drawings; and
connect with the worldwide GLOBE community during the celebration and beyond!
GLOBE would like to thank everyone who went outside and gathered measurements during the air temperature collection event on 25 March.
Tip: There is a portion of the Air Temperature Data Challenge results in the Earth Day celebration broadcast video at the top of this page. See the full results of this year's Data Challenge.
 
Join GLOBE on Social Media
 
To stay connected with The GLOBE Program and receive updates on all our Earth Day initiatives, follow us on social media.
---
Earth Day with NASA
Earth Day provides a chance for NASA to reach various audiences, from people who are already well aware of NASA's activities in Earth and climate science, to those being introduced to the festivities for the first time. This year, NASA's Earth Day celebration will include both virtual and in-person events to celebrate all the wonders of the Earth. Additionally, be sure to connect with NASA on social media this Earth Day by posting a photo showing why life on the planet is so special.
Virtual
 
Live online events on Earth Day, 22 April
Live chat with NASA experts
Live Kahoot! Trivia games
A kid-friendly fun zone
An educational learning zone
Spanish language speakers and resources
Note: NASA's virtual online event will begin on 22 April and remain on demand through 2 May.
 
In-person
 
People who live in or near Washington, D.C. can join NASA's in-person celebration of Earth Day. See the details of the event below:
Location: Main Hall at Union Station
Date: 22 – 24 April 2022
Time: Noon to 5:00 p.m. EST daily
There will be a variety of activities at this free, open-to-the-public celebration. At the event, NASA will feature activities for all ages, including:
A variety of engaging science activities and demos
A unique opportunity to step into NASA's virtual world
A "passport to fun" to help students start exploring the Earth system with NASA