U.S. Southeast Regional Student Research Symposium Date Change: Now 10-11 May!
Jan 17, 2019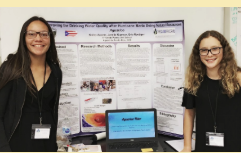 U.S. GLOBE Community: The dates of the U.S. Regional Student Research Symposium (SRS) in the Southwest Region has been changed to 10-11 May 2019.
The 2019 SRS gives students (grades 5-12) from across the United States the opportunity to come together, face-to-face, and share the results of their field investigations using GLOBE protocols (or data from the GLOBE database) with peers and professional scientists. The SRS enables students to learn from each other, receive feedback on their research, and explore STEM careers.
Teachers, students, U.S. Partners, scientists, and alumni from the Southeast region (Alabama, Arkansas, Florida, Georgia, Kentucky, Louisiana, Mississippi, North Carolina, South Carolina, Tennessee, and Puerto Rico) are invited to gather and discuss GLOBE student research projects at the fourth annual U.S. Southeast Student Research Symposium (SRS). This event will include presentations of student research, professional development for teachers, and networking and collaboration opportunities for all participants. (Registration will open in the winter of 2019.)
For more information on the U.S. SRS, click here.
For more information on the Southeast SRS, click here.
If you have any questions about the research process or bringing students to the SRS, please use the SRS Teacher Hotline. Did you know that you can apply for support to travel to your region's SRS? You can! Funding priority will go to eligible schools first; after that, funds will be distributed until they are expended. For more information on possible funding, click here.
type: globe-news
News origin: GLOBE Implementation Office