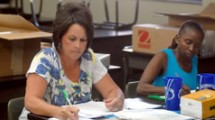 01/24/2012
Oklahoma Partner Obtains Grant to Reinforce GLOBE in the Classroom
GLOBE Partner and Trainer Dr. Cathy Lightsey was awarded the SET GO Grant by the Oklahoma Experimental Program to Stimulate Competitive Research (OK EPSCoR), creating opportunities for elementary and secondary science teachers in Oklahoma to receive training in GLOBE protocol implementation as well as obtain additional materials for their classrooms.
>>
06/09/2010
GLOBE Iowa 7th Graders Continue Volga River Research Project
United States GLOBE Teacher Bruce Huckins' 7th grade class, at West Central Middle School in Maynard, Iowa, is conducting the second year of the Volga River Project. In 2008, Huckins' class created the project by measuring the Transparency, Nitrate, pH, Dissolved Oxygen, and Water Temperature of the Volga River four times throughout the year, beginning in November. Huckins' current class decided to continue the project and repeat the same tests every month starting in November 2009.
>>