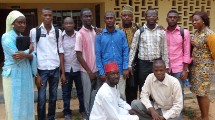 01/21/2015
Nigeria joins NASA's Global Precipitation Measurement (GPM) Field Campaign
Nigeria is onboard with GLOBE's Global Precipitation Measurement (GPM) satellite mission. Mr. Olawale Ayodeji Oluwafemi, a GLOBE Partner and scientist at the Nigerian Space Agency's Centre for Geodesy and Geodynamics, responded to NASA's request to scientists all over the world to join NASA's global awareness campaign about the GPM satellite mission.
>>
11/19/2010
Aerosol Awareness Heightens at International African Dust Workshop
GLOBE Teachers from the United States, Mexico, Cameroon, and French Guyana gathered with other science educators and NASA Scientists in Mayaguez, Puerto Rico, from 20-25 June 2010 to learn innovative ways to incorporate GLOBE Protocols into classroom-based environmental studies.
>>