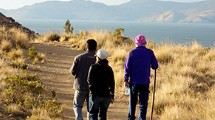 11/25/2013
GLOBE Expands to Schools and Regions Throughout Peru
Multiple trainings were held in southern Peru in the month of October 2013 in the Region of Moquegua, at schools in Omate, Moquegua, and Ilo. The trainings focused on the use of GLOBE Atmosphere protocols with an emphasis on climate, using weather stations and equipment such as maximum / minimum thermometers provided by the Ministry of Environment. Teachers, students and municipal representatives participated in the hands-on training.
>>
11/07/2013
A History of GLOBE's Southernmost School - Ushuaia, Argentina
In Ushuaia, capital city of Tierra del Fuego Province in Argentina, also called "the southernmost city of the world", there is a GLOBE school with a long history in GLOBE achievements; this is Escuela Provincial Nº 1 Domingo Faustino Sarmiento (Provincial School No.1 Domingo Faustino Sarmiento). The city slogan is "Ushuaia, End of the World, Beginning of Everything."
>>