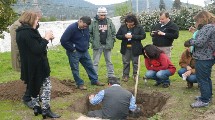 01/22/2015
GLOBE Expands in Chile
On 13 August 2014, 15 schools in the Greater Metropolitan Region of Chile began their journey with The GLOBE Program. The U.S. Embassy, through funding from its Science Corner partnership with the University of Talca, provided GLOBE equipment to 15 schools for a 2014 pilot program in collaboration with the Chilean Ministry of Education, EXPLORA, and several Chilean universities.
>>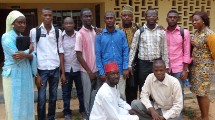 01/21/2015
Nigeria joins NASA's Global Precipitation Measurement (GPM) Field Campaign
Nigeria is onboard with GLOBE's Global Precipitation Measurement (GPM) satellite mission. Mr. Olawale Ayodeji Oluwafemi, a GLOBE Partner and scientist at the Nigerian Space Agency's Centre for Geodesy and Geodynamics, responded to NASA's request to scientists all over the world to join NASA's global awareness campaign about the GPM satellite mission.
>>