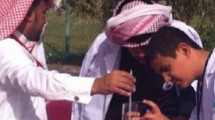 04/29/2015
GLOBE Training in Saudi Arabia
Approximately 150 teachers and local coordinators representing all Educational Directorates in Saudi Arabia, came together in Al-Ahsa to be trained in basic GLOBE protocols in Atmosphere, Hydrology and Soil, as well as GPS and data entry.
>>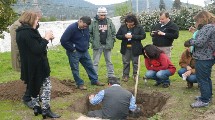 01/22/2015
GLOBE Expands in Chile
On 13 August 2014, 15 schools in the Greater Metropolitan Region of Chile began their journey with The GLOBE Program. The U.S. Embassy, through funding from its Science Corner partnership with the University of Talca, provided GLOBE equipment to 15 schools for a 2014 pilot program in collaboration with the Chilean Ministry of Education, EXPLORA, and several Chilean universities.
>>