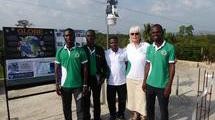 01/26/2017
GLOBE Weather Station Installed During Teacher Training in Ghana
Heyne-Mudrich brought a new weather station to the Westphalian Senior High School in Oyoko, Ghana. (This weather station was sponsored by the Gymnasium Schloß Neuhaus in Paderborn, Germany.) The weather station was successfully installed on the roof of the school's new laboratories.
>>
01/08/2002
Ghana's Lively Program Expands
More than 90 teachers from across Ghana convened for the country's first GLOBE Teachers Conference, which included a launch of the recently added ozone and aerosol protocols. Trainers and trainees also tested the deep red clay and sandy soils, which contrasted mightily with the equally deep greens of the area's vegetation.
>>
06/26/2000
Vibrant Trainings in West Africa
Highly successful GLOBE Train-the-Trainer workshops recently were held in Ghana and The Gambia, with local public officials and educators, GLOBE Country Coordinators, Peace Corps Volunteers and representatives of GLOBE-US . Working under a steady West African sun, and serenaded by the screeches of multi-colored birds, more than 70 men and women laid out pixels, sampled soils, tested waters, studied data graphs, and discussed the Program's added emphasis on student inquiry.
>>