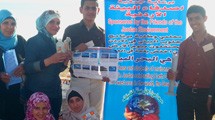 09/08/2005
Jordanian Student creates Email Data Entry Generator!
Have you ever entered your GLOBE data via E-mail? It's a fantastic method of sending large amounts of data to the GLOBE database. However, it can be a bit overwhelming and difficult to understand the codes necessary to enter data. A former Jordanian GLOBE student has developed a program to help overcome these problems.
>>
08/25/1998
GLOBE Stars in Jordan
Building on the early success of the GLOBE Program in Jordan, students and teachers gathered in Amman during the spring of 1998 for a special training workshop. 56 students and 29 teachers representing 16 schools practiced the GLOBE measurement protocols and mastered the use of the GLOBE Web site. Participants also conducted a Web Chat on remote sensing with Gary Lauten from the University of New Hampshire.
>>