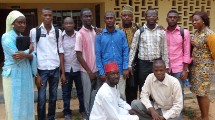 01/21/2015
Nigeria joins NASA's Global Precipitation Measurement (GPM) Field Campaign
Nigeria is onboard with GLOBE's Global Precipitation Measurement (GPM) satellite mission. Mr. Olawale Ayodeji Oluwafemi, a GLOBE Partner and scientist at the Nigerian Space Agency's Centre for Geodesy and Geodynamics, responded to NASA's request to scientists all over the world to join NASA's global awareness campaign about the GPM satellite mission.
>>
01/09/2008
Nigeria's Ondo State Hosts Third GLOBE Workshop
The third GLOBE workshop in Nigeria took place on 17-20 December 2007 at the Sunshine State e-Technology Center in Akure, Ondo State. This training was the second in a series of professional development events convened to certify at least two GLOBE teachers at each of Ondo State's 250 secondary schools and provide them with a complete set of equipment to measure GPS, atmosphere, soil, hydrology and land cover protocols in support of the regions student research activities. The Governor of Ondo State, His Excellency Dr. Olusegun Agagu, has sponsored this long-term initiative which includes a sustained professional development program for teachers.
>>
10/18/2006
Nigeria Becomes an Important Member of GLOBE in Africa
Nigeria has taken a giant step forward with implementing GLOBE and joining the GLOBE Africa community! During 22-25 August 2006, over 80 participants attended the first GLOBE Nigeria Trainer Workshop. In addition to teachers and administrators from over 30 schools, representatives from Federal and State Governments, Nigerian Meteorological Service, World Meteorological Organization, universities, and a United Nations organization called the African Regional Centre for Space Science and Technology Education (ARCSSTE-E) participated in the event.
>>