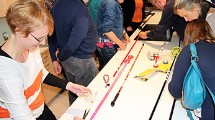 11/22/2013
Creative New Use for Ski Poles in Finland
More than forty new and old participants in the GLOBE Program in Finland kicked off the new school year with an event at the U.S. Embassy in Helsinki. With the assistance of Senior Scientist Achim Drebs from the Finnish Meteorological Institute, the group transformed old ski poles into snow depth measurement sticks and learned how to use them to take scientific measurements of snow depth. This school year GLOBE schools in Finland will participate in a national snow depth measurement project, a project that can be adapted to all ages across the school curriculum.
>>
10/25/2013
Students Work to Improve Water Quality in Rijeka, Croatia
Three students from the Medical High School in Rijeka, Croatia took third place in the 2013 GLOBE Student Research Exhibition for their project "Water Quality and Revitalization Potential of the Mrtvi Kanal Channel" at the GLOBE Annual Meeting. Their research investigation concerned the channel of stagnant water running through the heart of Rijeka and close to their school. Their ultimate aim was to understand what could be done about it.
>>