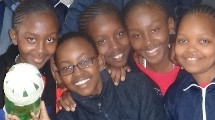 04/25/2012
Second Geoscience Alliance National Conference Strengthens GLOBE Tribal Collaborations
GLOBE has a long history of Tribal College collaboration, initiated through activities with Stone Child, Diné-Shiprock, Little Big Horn, Salish Kootenai, Dull Knife, Blackfeet Community, Fort Peck, and Fort Belknap Colleges of Montana; Crownpoint Institute of Technology of New Mexico; Haskell Indian Nations University of Kansas; and White Earth Tribal & Community College of Minnesota.
>>
04/13/2012
Sound to Sea Program Educates Student Scientists through GLOBE Protocols
For thirteen years GLOBE Partner Sidney Post has worked closely with the Sound to Sea program in North Carolina to integrate GLOBE protocols into the program's backbone, leading to a wealth of information for students and researchers to use. His partnership, the Watershed Action Team, is responsible for recruiting GLOBE schools in the Hope Mills area of North Carolina, training GLOBE teachers, and mentoring GLOBE students in the Cape Fear River Basin.
>>
03/30/2012
OPF Girls College in Pakistan Conducts Studies Built on GLOBE Curriculum
Students and their teachers at Overseas Pakistanis Foundation (OPF) Girls College conduct ongoing GLOBE activities in their Earth Science classes. The school is located in the urban center of Islamabad, and attending students range from four to 24 years in age. Islamabad is the 10th largest city in Pakistan, and currently houses over 1.7 million people.
>>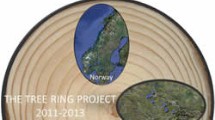 10/19/2011
Students View Climate Differently From the Summit of Mt. Kilimanjaro
Mt. Kilimanjaro stands 5,895 meters or 19,341 feet above sea level. From this vantage point, the inquiring minds of GLOBE students went to work alongside dedicated educators and scientists who all gathered in Tanzania, Africa for the 3rd annual Kilimanjaro Xpedition––a climb up the largest freestanding mountain in the world.
>>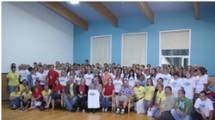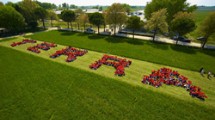 07/08/2011
GLOBE Students Across the World Celebrate Earth Day 2011
Sixteen years ago, on Earth Day, 22 April 1995, the GLOBE program was launched. In 2011, the international GLOBE network has grown to include 111 participating countries, with each country implementing GLOBE into local schools and communities.
>>
02/28/2011
AMSTI-GLOBE Promotes GLOBE Days and Science on a Sphere at ASTA Conference
AMSTI-GLOBE a Partnership between the GLOBE Program and the Alabama Math, Science, and Technology Initiative (AMSTI), was busy last year with a host of events. On 12-13 October, fifth through eighth grade Stevenson Middle School students spent two days exploring Earth and environmental science activities during GLOBE Days in Stevenson, Alabama. GLOBE was integrated through Hydrology, Land Cover, and a number of GPS activities including geocaching, races, and mapping games.
>>