10/27/2010
Qatar Celebrates 10th Year of GLOBE Implementation
Since its foundation in September of 2000 by the Minister of Education's Office, the GLOBE Program in Qatar has engaged in many activities to benefit the region: hosted the 7th Annual Regional Meeting in 2008, offered an International Training Workshop, participated in establishing the North Africa and Near East Consortium, collaborated with the Peace Corps, and continues to thrive, with 194 teachers trained in GLOBE in Qatar.
>>
03/09/2012
GLOBE Partnership in California Shoots for the Stars in Education
The early morning air roared like thunder as a ULA Delta-II rocket soared into the skies over Vandenberg Air Force Base in Santa Maria, California. At 5:48 a.m. on 28 October 2011, NASA launched the National Polar-Orbiting Operational Environmental Satellite System Preparatory Project (NPP) into orbit over Earth.
>>
02/29/2012
The Next Generation of GLOBE Climate Scientists in Peru
The year 2011 brought new challenges and developments for the GLOBE community in Peru. A group of students from the National Agrarian University-La Molina, interested in the Student Climate Research Campaign (SCRC) and the 2013 GLOBE Learning Expedition, have worked hard to disseminate the SCRC in Peru and to consolidate their knowledge and research skills.
>>
02/24/2012
South Africa Enhances Classroom Achievement through GLOBE Training
Teachers in South Africa are utilizing the benefits of GLOBE resources in innovative ways to complement their students' education as well as their extracurricular activities. The effort to expand Earth science education throughout the community was recently supported through a GLOBE teacher training workshop held in Johannesburg, South Africa from 19-22 December 2011. Ms. Mokgadi Madiga, Government Point of Contact and acting GLOBE Country Coordinator, stated, "Thanks to the work of these devoted teachers who believe in connecting with the Earth through interactive science study, more schools will connect to GLOBE throughout the coming year and environmental awareness campaigns will have a wider reach in our society."
>>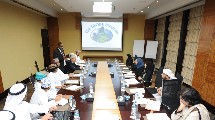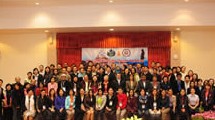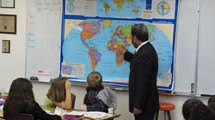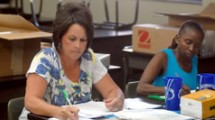 01/24/2012
Oklahoma Partner Obtains Grant to Reinforce GLOBE in the Classroom
GLOBE Partner and Trainer Dr. Cathy Lightsey was awarded the SET GO Grant by the Oklahoma Experimental Program to Stimulate Competitive Research (OK EPSCoR), creating opportunities for elementary and secondary science teachers in Oklahoma to receive training in GLOBE protocol implementation as well as obtain additional materials for their classrooms.
>>