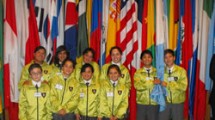 06/29/2011
GLOBE Chile Promotes Leaders for the Future
In December 2010, students, teachers, scientists, government representatives, and Chilean authorities gathered at the United Nations Building in Santiago, Chile, to share the results of GLOBE research conducted in two of the country's watershed areas.
>>
06/17/2011
2011 Europe & Eurasia GLOBE Annual Conference in Kiev, Ukraine
The Europe & Eurasia GLOBE Annual Conference and national training event was held from 1-6 June in the National Ecology and Nature Center in Kiev, Ukraine. Representatives from 20 countries including Croatia, Cyprus, Czech Republic, Estonia, Finland, France, Hungary, Iceland, Israel, Italy, Latvia, Lithuania, Netherlands, Norway, Poland, Russia, Switzerland, U.K., U.S. and Ukraine attended to discuss future regional activities for GLOBE and exchange ideas.
>>
06/13/2011
GLOBE Students Run for Water in Buenos Aires
Each day millions of people in many countries walk an average of six kilometers a day to access drinking water. In 2010, a series of 6K run/walks aimed at raising awareness about the need for water rationing took place over 24 hours in 200 cities across 180 countries and six continents.
>>
05/23/2011
Goat Rescued from Sinkhole Inspires GLOBE Student Research in Ohio
One afternoon, Donna Shepherd, GLOBE Partner with the Technology Resource Facilitator for Ohio Valley Schools in Adams Country, was searching for a missing young goat on her farm when she discovered that the goat had fallen down into a hole just large enough that his head was still partially visible. Thankfully, Donna and a friend were able to rescue the goat, but the situation provoked curious thoughts regarding the abundance of sinkholes in the area.
>>
05/18/2011
Finland Students Observe Oxygen Levels in Lakes Palokkajärvi and Tuomiojärvi
GLOBE students and teachers at Palokka School in Finland closely monitor and gather data measurements of their schools neighboring Lake Palokkajärvi, a small lake in Central Finland. Lake Palokkajärvi provides the opportunity for Palokka Finnish students to study and research the importance of the environment through GLOBE.
>>