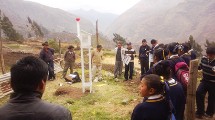 12/02/2013
Peruvian Institution of Education Javier Perez de Cuellar Installs Weather Station
The Peru Ministry of Environment and National Coordinator of GLOBE have been promoting GLOBE nationwide as a valuable tool for the development of a scientific culture in children and youth of the country. On 14 October 2013, the Institution of Education (I.E.) Javier Perez de Cuellar Carampoma District in the Province of Huarochirí in Lima, joined the GLOBE Program by installing an instrument shelter that contains the necessary tools for measuring and monitoring atmospheric data.
>>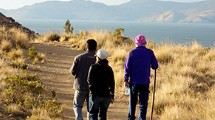 11/25/2013
GLOBE Expands to Schools and Regions Throughout Peru
Multiple trainings were held in southern Peru in the month of October 2013 in the Region of Moquegua, at schools in Omate, Moquegua, and Ilo. The trainings focused on the use of GLOBE Atmosphere protocols with an emphasis on climate, using weather stations and equipment such as maximum / minimum thermometers provided by the Ministry of Environment. Teachers, students and municipal representatives participated in the hands-on training.
>>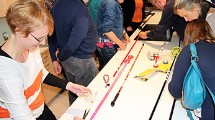 11/22/2013
Creative New Use for Ski Poles in Finland
More than forty new and old participants in the GLOBE Program in Finland kicked off the new school year with an event at the U.S. Embassy in Helsinki. With the assistance of Senior Scientist Achim Drebs from the Finnish Meteorological Institute, the group transformed old ski poles into snow depth measurement sticks and learned how to use them to take scientific measurements of snow depth. This school year GLOBE schools in Finland will participate in a national snow depth measurement project, a project that can be adapted to all ages across the school curriculum.
>>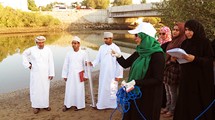 11/11/2013
GLOBE Training Workshop Brings the GLOBE Program To All Regions in Oman
A recent training workshop for Oman's GLOBE teachers and supervisors from 22 schools added ten new schools to the Sultanate's GLOBE Program. The Ministry of Education in Oman organized the five-day training event, held 6-10 October 2013. With the addition of these new schools, the GLOBE Program is now active in every region in Oman.
>>
11/07/2013
A History of GLOBE's Southernmost School - Ushuaia, Argentina
In Ushuaia, capital city of Tierra del Fuego Province in Argentina, also called "the southernmost city of the world", there is a GLOBE school with a long history in GLOBE achievements; this is Escuela Provincial Nº 1 Domingo Faustino Sarmiento (Provincial School No.1 Domingo Faustino Sarmiento). The city slogan is "Ushuaia, End of the World, Beginning of Everything."
>>
10/25/2013
Students Work to Improve Water Quality in Rijeka, Croatia
Three students from the Medical High School in Rijeka, Croatia took third place in the 2013 GLOBE Student Research Exhibition for their project "Water Quality and Revitalization Potential of the Mrtvi Kanal Channel" at the GLOBE Annual Meeting. Their research investigation concerned the channel of stagnant water running through the heart of Rijeka and close to their school. Their ultimate aim was to understand what could be done about it.
>>
02/20/2013
GLOBE Peru Teams with Peace Corps to Expand GLOBE in the Region
Peace Corps has been active in promoting and supporting GLOBE since 1997 when Peace Corps Volunteers first served as GLOBE teachers in Kyrgyzstan and helped with the implementation of the program. This beneficial relationship is now developing in Peru, where the two organizations have joined hands.
>>