"Save our Seas by reducing your use of Plastics"
Student(s):Adam Jude Mifsud Andrea Schembri Christian Vella Evan Zammit Francesca Bugeja Gabriel Grech Gwen Green Jesus Scerri Juan Grech Luke Sultana Maksim Begus Nathaniel Pace Nicholas Bugeja Nikolai Galea Rafael Grech Sebastian Grima Soleil Grech Timothy Pace William Green
Grade Level:Lower Primary (grades K-2, ages 5-8)
Contributors:
Report Type(s):International Virtual Science Symposium Report
Protocols:Air Temperature, Barometric Pressure, Clouds, Relative Humidity, pH, Water Temperature
Optional Badges:Be a Data Scientist, Make An Impact, Be a STEM Storyteller
Language(s):English
Date Submitted:03/09/2022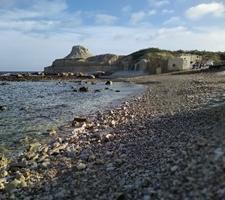 The seas are an intrigue part of the human and animal lives on planet earth. Oceans gives us 70% of the oxygen we breathe and has an impact on climate change, so we need to care for it. We put forward a simple question, "Is there a problem with our oceans today?" Yes, waste, especially one-time use plastic waste which doesn't get recycled has had a negative impact on the seas affecting our food, water, etc. We decided to take a deep look into why this is happening. Since we live on an island, we are surrounded by beaches/bays, they are all around us. We started out by choosing one area – Xwejni Bay in Marsalforn, Gozo, Malta. This is mainly a rock beach. At first glance you don't see any plastic on the beach or in its waters. But getting onto the beach was a different story altogether. We wanted to know if this waste is affecting our seas to be more specific – The Mediterranean Ocean. We were amazed to find that this was on the beach we sunbath and swim in.
Comments