Earth System Science Posters
GLOBE provides a variety of educational materials to help teachers better explain Earth System Science to their students. With The GLOBE Program's series of posters, members can see detailed visualizations of satellite data around the world. Whether members are studying surface temperature, precipitation, land cover or more, GLOBE's posters are a great way to explore the changing world.
---
Steps in the Scientific Process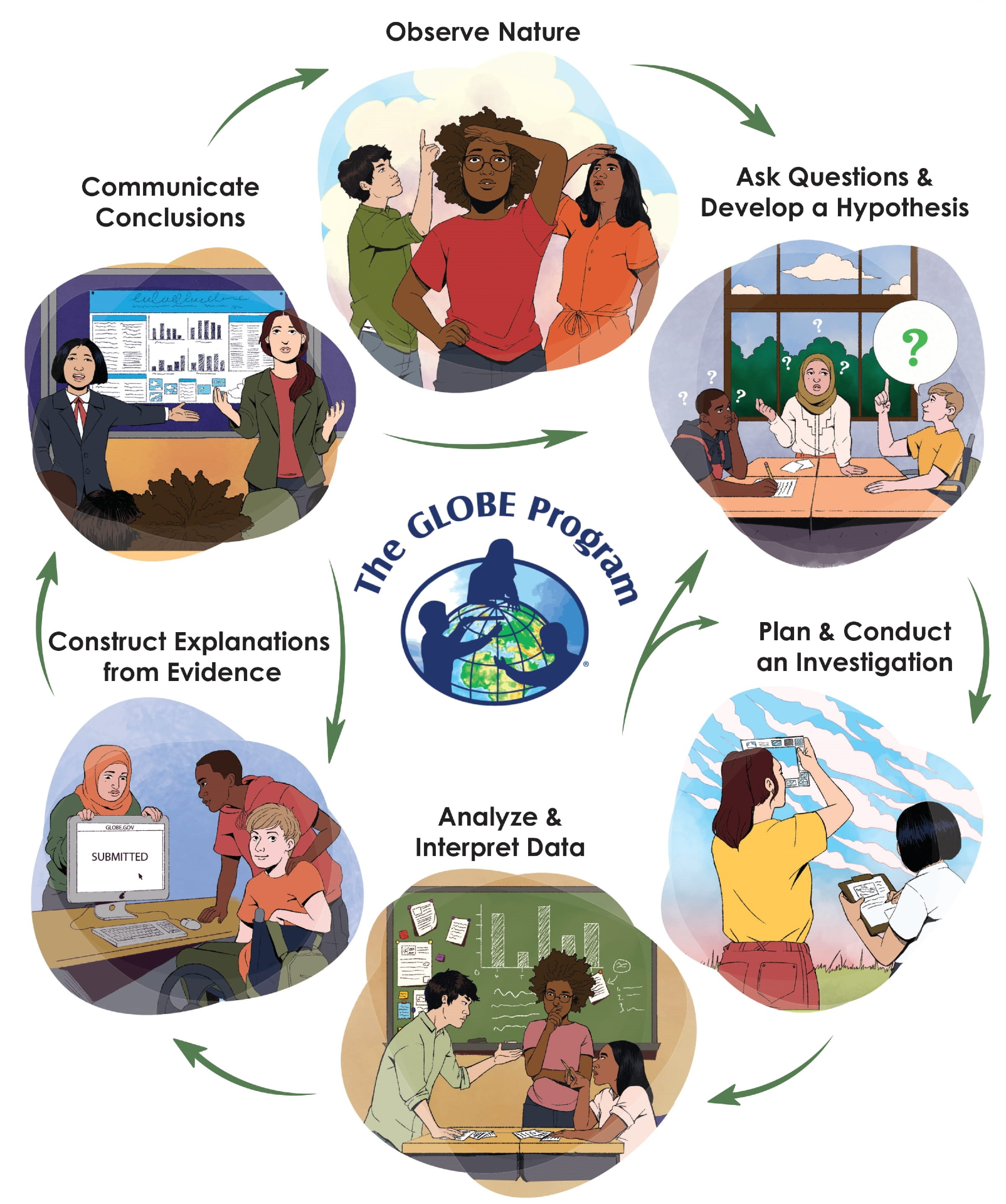 The scientific process is about asking questions, pursuing answers and using evidence to support the results. With that in mind, members do not have to be professionals to start conducting science in their own community. They can collect and analyze new data or perform calculations on existing data with new perspectives to gain a better understanding of the world around them.
Learn more about the scientific process and follow GLOBE's guided walkthrough.
---
Earth System Science Poster Cards
 
Developed by the My NASA Data Team, these digital GLOBE Earth system posters provide images of satellite data to help students observe and analyze earth and environmental data, understand the relationship among different environmental parameters, and explore how the data changes seasonally and over longer timescales. The current card deck covers six months throughout 2019, however, members can also find archived posters dating back to 2007.
Learn more about NASA's Earth System Science Poster Cards.
 
---
Earth as a System Learning Activities
 

Learn how to identify global patterns and connections in environmental data with GLOBE's Earth as a System learning activities. By comparing and contrasting GLOBE poster images, students can explore the relationships between insolation and surface temperature, aerosols and wildfires, and much more. For an example on how teacher's have incorporated the Earth System Poster into their curriculum, see the learning activity from the Arctic and Earth SIGNS team.
Learn more about Earth as a System Learning Activities.
Tip: Although the learning activities were originally written for GLOBE's 2007 posters, users can substitute more recent images from the My NASA Data Poster site.
 
---

GLOBE Earth System Poster: 2007
 

View six different 2007 data visualizations side by side with this GLOBE Earth System Poster. Users can download the poster at various sizes or resolutions, or download individual images from the table below.
Small: 340KB, can be printed on 11"x17" paper
Large: 51.9 MB, can be printed on larger cardstock
Low-resolution: 2.4 MB, identical to "Large" version but with a lower resolution
---

GLOBE Earth System Poster: 1987