Instructions for teachers - Virtual Conference
Instructions for the 2012 Virtual Conference
Starting on 11 May 2012, please review at least three projects with your students. On the Project Spotlight page (click on the link provided with the project), add a question or a comment. Also, check back to see if your project has gotten any comments or questions.
--------------------------------------------------------------
In order to participate, please upload your student presentation by May 4th to:
http://www.youtube.com/globel2rtv
(Password and login ID available from Julie Malmberg)
Please also review this recording for clarification on the project guidelines and an example of how to record your project: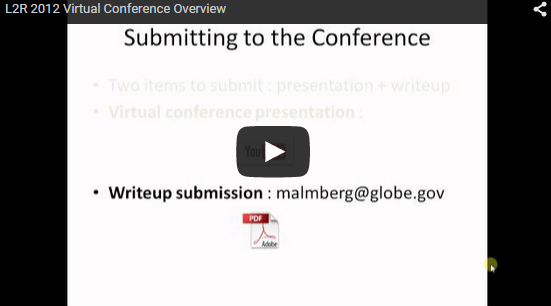 (Video will open in a new window.)
Send your PDF presentation and short abstract (about 250 words or less) to Julie by May 4th.
After the conference opens on 11 May 2012, please browse through the different subject areas in the left navigation of this page. We ask that you comment on at least three student presentations. You can comment on either the YouTube link or on the PDF page. And, be sure to answer any questions about your presentations!
(Note - this page will be updated as clarification is needed.)