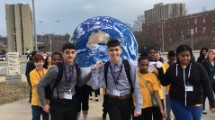 07/02/2019
Fourth Annual Student Research Symposia a Success
At the 2019 Regional Student Research Symposia (SRS), 261 students presented a total of 107 GLOBE research projects to their peers and local scientists. Students also experienced keynotes, tours, and hands-on science activities, while teachers participated in professional development sessions.
>>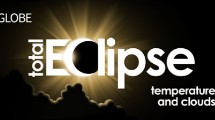 07/02/2019
South American Eclipse 2019 – 04 July Webinar: "Share Your Eclipse Experiences"
On Thursday, 04 July, (9:30 a.m. EDT/13:30 UTC), the webinar "Share Your Eclipse Experiences" will be presented. Taking place right after the eclipse, this webinar provides the opportunity for teachers and students to share experiences with a NASA and GLOBE audience. What did you observe in general during the eclipse? Was the experience what you expected?
>>