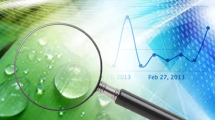 03/27/2014
New and Revised Website Features Coming!
A new and improved Honor Roll system will be available on the GLOBE website. The original recognition system was termed the GLOBE Chief Scientist's Honor Roll. The GLOBE Science Honor Roll is a way for GLOBE to recognize the data contributions of GLOBE students and schools. Additionally, in response to the great feedback we have received from the GLOBE community, a number of enhancements have been added to the Workshop, and News and Events applications.
>>
07/12/2012
16th GLOBE Annual Partner Meeting Begins 15 July
We are drawing closer to the start of the 16th GLOBE Annual Meeting. For the first time in GLOBE history, the meeting will be hosted by a GLOBE Partner, The National Center for STEM Education at St. Catherine's University in St. Paul, Minnesota, USA. The event will commence with a welcome reception on Sunday evening, 15 July, and will continue through Friday, 20 July with speakers, presentations, field studies and for the first time, student participation through the GLOBE Student Science Symposium.
>>