Building Ecological Knowledge with Bio-indicators in Arequipa, Peru
Jan 27, 2016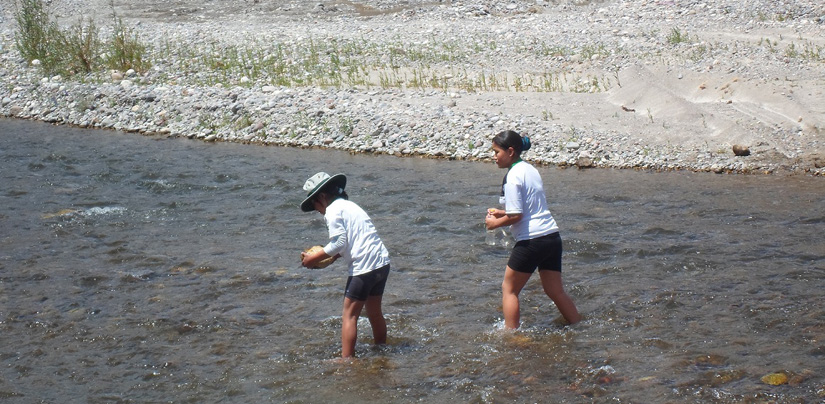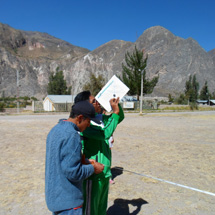 During the southern hemisphere winter (June through mid-September) of 2014, two sets of students from the Mariscal Orbegoso School in Cotahuasi, Arequipa, Peru conducted research using GLOBE protocols.
The students investigated changes occurring in their environment and sought to better understand the behaviors of bio-indicator species. To do this, the students conducted research projects: one group on atmosphere and the other on hydrology.
Of Lichens and Atmosphere
Students Yamile Cervantes Ramos and Jennifer Alvarez Cruz were concerned about the environmental impacts of urbanization and road construction in their province of La Union, and particularly those related to air quality and local climate. Knowing that lichens are a recognized bio-indicator of air quality, they decided to explore the relationship between atmospheric measurements and lichen populations in their own community in Cotahuasi. (Cotahuasi is located at about 2,580 meters above sea level and is surrounded by the riverine forest ecosystem.)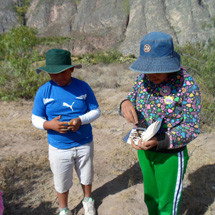 For their project, Jennifer and Yamile asked the question, "What applied atmospheric measurements can serve as indicators for the atmosphere's relationship to lichens?" Hypothesizing that it would be possible to determine a relationship between the atmosphere and lichen conditions, they decided to use their school's GLOBE meteorological instrument shelter. Daily, the students collected data on maximum and minimum temperatures (monitored at solar noon) and the relative humidity.
Jennifer and Yamile identified a sample of lichens growing on a nearby tree (20 meters from the instrument shelter), and spent three months observing possible changes in the sample. Recognizing that lichen growth is slow and that human disturbance could easily occur in the observation site, the students decided to select lichen samples that were at least 1.5 meters in height. Here again, GLOBE protocols came in handy, as they were able to calculate the height of the tree using clinometer measurements.
Jennifer and Yamile found that changes in the lichen -- one millimeter of growth and notable color change – occurred in September, when relative humidity and minimum daily temperature were at their highest in comparison with July and August.
Of Benthic Macro-invertebrates and Water Quality
Students Alejandrina Rios Chirinos and Judith Taya Quispe spent the months of June, July and August 2014 investigating another bio-indicator group: benthic aquatic insects. They studied the insects in their micro-watershed of Huacaccara -- Huacaccara is the primary water source for La Union livestock and agricultural production. Huacaccara also falls within the sub-watershed of Cotahuasi, which is a protected natural area.
The students not only wanted to know the current water quality conditions of the Huacaccara, but they also wanted to find a method by which area farmers could understand the water quality in the micro-watershed which they depend on for their livelihood. Alejandrina and Judith designed and implemented their project, titling it: "Benthics and their use for knowing the conservation status of the Huacaccara micro-watershed in the Cotahuasi district, La Union." For this, they asked two interlinking research questions, "What is the current status of the Huacaccara micro-watershed?" and "By what means and with what tools may a La Union farmer understand the current status of the Huacaccara micro-watershed?"
Hypothesizing that benthic macro-invertebrates could be used to determine the water quality of the micro-watershed; the students identified two urban creek sites of the Huacaccara, located at 2,450 and 2,730 meters above sea level. Utilizing observation protocols for nitrates (chemical) and water temperature (physical), and by collecting and counting the abundance and diversity of different benthic species, they sought to determine the relationship between the different observations.
Through their research, Alejandrina and Judith found a reduction in the populations of odonates and mayflies, with a growth in the crustacean and annelid populations. Based on their results, they identified a relationship between the population growth of freshwater worms (gusano acuático-anélida, oligochaeta), within higher water temperatures and nitrate levels.

When looking at their results and findings, the students also noted that the organisms' different stages of life can affect how easily they may be identified and counted. Such findings are an important consideration for their second research question, which looks for tools that local farmers can use to understand their watershed.
Both of these student projects can impact their community by exploring bio-indicators as research tools accessible to local residents.
Editor's Note: This GLOBE Star was created from materials submitted and written by Irene Farrow, GLOBE Peru Promoter and Karin Ramos Torres, GLOBE Teacher and Trainer. Project reports were written by students Yamile Cervantes Ramos, Jennifer Alvarez Cruz, Alejandrina Rios Chirinos and Judith Taya Quispe.
Curriculum: Education Research
GLOBE Science Topics: Climate GLOBE Protocols
Investigation Areas: Atmosphere Hydrosphere Atmosphere » Relative Humidity Hydrosphere » Freshwater Macroinvertebrates Hydrosphere » Nitrates
Learning Activities: Atmosphere and Climate Hydrology
Primary Audience: Students
---
Comments
Please
log-in
to post comments