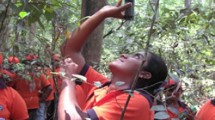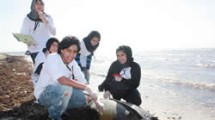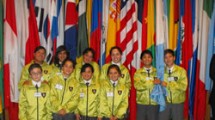 06/29/2011
GLOBE Chile Promotes Leaders for the Future
In December 2010, students, teachers, scientists, government representatives, and Chilean authorities gathered at the United Nations Building in Santiago, Chile, to share the results of GLOBE research conducted in two of the country's watershed areas.
>>
06/17/2011
2011 Europe & Eurasia GLOBE Annual Conference in Kiev, Ukraine
The Europe & Eurasia GLOBE Annual Conference and national training event was held from 1-6 June in the National Ecology and Nature Center in Kiev, Ukraine. Representatives from 20 countries including Croatia, Cyprus, Czech Republic, Estonia, Finland, France, Hungary, Iceland, Israel, Italy, Latvia, Lithuania, Netherlands, Norway, Poland, Russia, Switzerland, U.K., U.S. and Ukraine attended to discuss future regional activities for GLOBE and exchange ideas.
>>
06/13/2011
GLOBE Students Run for Water in Buenos Aires
Each day millions of people in many countries walk an average of six kilometers a day to access drinking water. In 2010, a series of 6K run/walks aimed at raising awareness about the need for water rationing took place over 24 hours in 200 cities across 180 countries and six continents.
>>