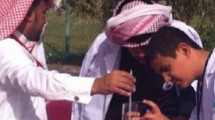 04/29/2015
GLOBE Training in Saudi Arabia
Approximately 150 teachers and local coordinators representing all Educational Directorates in Saudi Arabia, came together in Al-Ahsa to be trained in basic GLOBE protocols in Atmosphere, Hydrology and Soil, as well as GPS and data entry.
>>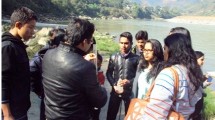 02/28/2015
UNESCO-GLOBE Learning Expedition in Nepal
Teachers, students and scientists from India, Nepal and Sri Lanka joined together in a collaborative learning experience, the UNESCO-GLOBE Learning Expedition.
>>
10/25/2013
Students Work to Improve Water Quality in Rijeka, Croatia
Three students from the Medical High School in Rijeka, Croatia took third place in the 2013 GLOBE Student Research Exhibition for their project "Water Quality and Revitalization Potential of the Mrtvi Kanal Channel" at the GLOBE Annual Meeting. Their research investigation concerned the channel of stagnant water running through the heart of Rijeka and close to their school. Their ultimate aim was to understand what could be done about it.
>>
04/05/2012
Uruguay Students Look for Life in the Miguelete Stream
Since Uruguay joined the GLOBE Program in 1995, students and teachers have been involved in intensive research projects that aim to improve understanding of the environment amongst themselves and their community. The Republic of India Primary School No. 85 is one of the most productive in Uruguay thanks to the work of dedicated GLOBE teacher Patricia Píriz. Since 2010 students in this school have been involved in a research project to verify the presence of aquatic macroinvertebrates in the Miguelete Stream, one of the most important water sources in Montevideo. The stream measures ​​22 kilometers in length and crosses the city from north to south. It was at one time a preferred site for locals to walk and relax, but has become so polluted in recent years that in 2003 it was categorized as a "dead water course" by "Geo-Uruguay Juvenil," the document on the state of the Environment in 2003. The same was reported by the "Primer Informe Ambiental Montevideo" (IMM) in 2001 when the only existence of an arthropod, an annelid, and a mollusk was reported in the Miguelete.
>>
03/30/2012
OPF Girls College in Pakistan Conducts Studies Built on GLOBE Curriculum
Students and their teachers at Overseas Pakistanis Foundation (OPF) Girls College conduct ongoing GLOBE activities in their Earth Science classes. The school is located in the urban center of Islamabad, and attending students range from four to 24 years in age. Islamabad is the 10th largest city in Pakistan, and currently houses over 1.7 million people.
>>