Soil Moisture Active Pass
Soil Moisture Active Passive (SMAP) Satellite Mission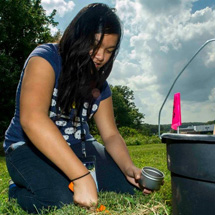 NASA's Soil Moisture Active Passive Mission (SMAP) measures soil moisture from space. SMAP has applications in science, agriculture, and environmental management, each of them vital to Earth's health and sustainability. From understanding the processes that link the water, carbon, and energy cycles to improving weather and climate prediction models, SMAP will advance environmental knowledge. For more details, see SMAP: Applications.
The SMAP Spacecraft takes measurements of surface soil moisture and produces daily maps of soil moisture with global coverage every three days.
To learn more about the NASA SMAP Mission, visit: http://smap.jpl.nasa.gov.
Want to learn more? Explore the links at the left for more detailed information.