Instructions for STEM Stories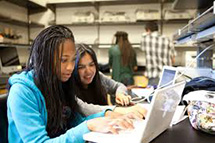 GLOBE is gathering stories of students, teachers and alumni who have been influenced by their GLOBE experiences to pursue further education in Science, Technology, Engineering and Math (STEM). We want to hear from:
Current GLOBE students who intend to pursue further education in STEM;
Former GLOBE students who are currently engaged in higher education in STEM areas or who have gone into STEM careers; and
Teachers who have been sought further training in STEM subjects, either through GLOBE training or through other professional development training, in order to enhance their capabilities as teachers or for new careers in STEM.
STUDENTS and ALUMNI:
If you are a current GLOBE student, tell us how GLOBE has influenced you. Are you considering a future in STEM? If so, how has GLOBE encouraged you?
If you are a former GLOBE student, let us know if you have chosen to pursue higher education in STEM. What were some of the pivotal experiences you had as a GLOBE student that influenced your decision? Where do you see yourself, 10 years from now?
TEACHERS:
If you are a teacher who has been inspired to further your training in STEM or have gone on to pursue a new career in one of these fields, as an outgrowth of your GLOBE experience, we want to hear from you, too.
-----
Start by downloading the template here. If the document does not open properly, click "open with different viewer" in the upper right corner and select Adobe Reader.
SAVE to your desktop or OPEN with Adobe Acrobat to enable the fill-form capability. Type in the boxes, save your document, and email it to communications@globe.gov.
Help demonstrate the unique diversity of our GLOBE Community. Send us a photograph of yourself, along with the Photo Release Form (available in English, Spanish and Arabic).
Thank you for sharing your story. We look forward to hearing from you!