GLOBE Promotes STEM Initiatives at events in Washington D.C. and the USA 2010 Science Festival
Dec 27, 2010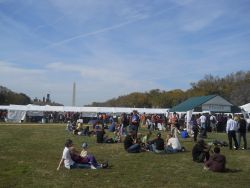 In October 2010, the GLOBE North America Regional Office attended the Expo on the Washington Mall, part of the annual USA Science Festival. This event unfolded concurrently with another GLOBE event, the Teacher at Sea/Teacher Research Experience meeting sponsored by the National Oceanic and Atmospheric Administration (NOAA) and the Department of Energy. This was a busy month for GLOBE in Washington D.C. since just days earlier that same month, three GLOBE students were given the honor of attending the White House Science Fair, hosted by U.S. President Barack Obama.
Over 100 participants attended the Teacher at Sea/Teacher Research Experience meeting on 22-24 October 2010 in Washington D.C. Dr. Kevin Czajkowski, GLOBE Partner and Scientist from the University of Toledo, Mr. Steven Frantz, GLOBE Teacher from Akron Public Schools, and Dr. Teresa Kennedy, Director of the GLOBE International Division and former NOAA Teacher at Sea, presented a poster focused on the scientific and educational successes of the GLOBE program, its international presence, and activities with teachers and students around the world.
Mr. Frantz showcased activities and successes with his students from Roswell Kent Middle School in Akron, Ohio. Activities he highlighted on the poster presentation included the GLOBE Surface Temperature Field Campaign, FLEXE (From Local to Extreme Environments), OhioView SATELLITES Science Conference, and Akron's Science Expo. Successes displayed included the "SATELLITE Girls," who attended the 2008 GLOBE Learning Expedition in Cape Town, South Africa, and other GLOBE students from Roswell Kent Middle School who qualified to compete in Ohio's State Science Day. Also included were copies of student work "My Climate – My Community" from the Student Climate Research Campaign pilot.
A special thanks is extended to the administration of Akron Public Schools for making it possible for Mr. Frantz to be able to implement and continue the GLOBE Program at his school and for providing the time to be able to present his work at the Teacher Researcher Experience Conference, and to Dr. Czajkowski for his time and seemingly endless energy devoted to making GLOBE such a success in schools in Ohio and around the world through numerous international Surface Temperature Campaigns that he leads each year.
The conference focused on bringing together program managers, scientists and K-12 teachers who have participated in research experiences for teachers. There were breakout sessions on evaluation versus research, STEM and STEM transfer amongst programs where Dr. Czajkowski served as a roundtable facilitator. Also presenting GLOBE, was long-time GLOBE Teacher and former NOAA Teacher at Sea, Mrs. Barney Peterson from James Monroe Elementary School in Everett, Washington. When asked why she has continued to use GLOBE in her daily classroom activities, she responded, "GLOBE is the first piece in a place-based applied learning program in which I immerse my students each year. We start the year with hands-on training in GLOBE daily protocols that can help to answer our research questions and engage in discussions about the important work that scientists do on a daily basis. From early September on, I ensure that students are responsible for noticing and measuring things going on around them daily. This helps them build connections to where they are. Conducting GLOBE protocols as a part of our environmental investigations helps to transform my students from kids reporting on the weather into amateur biogeoscientists. We learn about weather and climate, watersheds, water and soil chemistry, soil types, basic phenology, native plants and animals, ethnobotany, and the natural history of our region. And we use what we learn. Place-based education is not just about studying, it includes doing. We learn about our local watershed and help to educate others about water quality issues. We study native plants and plant them along streams to stabilize banks and improve salmon habitat. We raise Coho salmon and release them into local streams to help build returning stocks of spawning silvers. We have established native plants demonstration gardens at our school as a model of good sense, low maintenance landscaping. We have created a website to share information about regional native plants. (See website information at the end.) We use our accumulated GLOBE data, along with local stream and river gauge records, to track the effect of precipitation patterns and events on local watersheds."
These experiences have extended beyond Mrs. Peterson's fourth-grade class, into this year's multi-grade classroom, and 5th-grade classes where student learn to notice what is around them. She exclaims, "Everywhere we walk, we look up, down, around and we talk about what we see. Students tell EVERYONE about the wind gusts, birds nesting in our roof and flying overhead, how the paper-wasps make nests from the wood on our deck and why worms are on the sidewalk when it rains. Students observe and ask questions: Are there earthworms in the desert in Arizona? What happens to young salmon and baby birds when there is a late cold snap? What do fish do when rivers and lakes freeze? How do salmon know what to do if they are not raised by parents? Why does our weather come mostly from the West? When they ask questions, we investigate to find answers. As we work together to build new skills and learn the answers to our questions, students take all they have learned home to share with their families. GLOBE is not just something we do every day; GLOBE is a starting point. I attended my first GLOBE training during the summer of 1995. Since then, my teaching practice has expanded from presenting the curriculum to using prescribed subjects and units as a platform upon which to build rich educational experiences for my students and myself. From a district kit-based science regimen to an ever-expanding program of Earth system science, our experiences create and strengthen a basis for life-long learning."
The GLOBE North America Regional Office and Texas STEM Center Coalition teamed up at the USA Science and Engineering Festival in Washington, D.C., from 23-24 October 2010 on the National Mall. Opened by President Obama with an online invitation to the country to participate, the mission of the festival was to re-invigorate the interest of our nation's youth in the areas of science, technology, engineering and math (STEM) by producing and presenting one of the most compelling, exciting, educational, and entertaining science gatherings in the United States. GLOBE and the Texas STEM Center coalition provided hands-on experiences to children of all ages at their joint-exhibit booth. The booth exposed students and parents to GLOBE inquiry and STEM projects. According to Dr. Michael Odell, Texas GLOBE Partner and Ingenuity Center Director, a STEM Center located at the University of Texas at Tyler, "This was a great opportunity to highlight many different STEM programs that could potentially draw more students into science fields."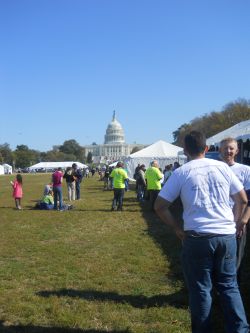 Activities during the festival included identifying clouds and contrails, and entering these GLOBE data from the mall, as well as analyses of the GLOBE Earth System Science (ESS) posters. Younger students were provided the opportunity to build roller coasters to explore physics concepts. Streamed simulcast updates from the Mall in Washington D.C., to a satellite event being held in Austin, Texas, were conducted by Ms. Kristian Trampus, the Ingenuity Center on-site correspondent in Washington, D.C., who provided hourly updates via Skype broadcast. More than 500,000 people attended this national event.
The USA Science and Engineering Festival and Expo on the National Mall aimed to engage students in STEM subjects by:
Offering stellar, multi-faceted programs with high entertainment value and integrity of scientific content;
Appealing to a large, diverse audience of all ages and backgrounds, from professionals to novices and science enthusiasts to the merely curious;
Engaging the greatest minds in science;
Involving the most dynamic leaders in business, technology, government, education and culture;
Building a strong foundation of prestigious and impressive institutional partners resulting in increased communication between the scientific and educational communities;
Producing each program at the highest level of quality, applying professional media and theatrical standards of excellence and technical sophistication;
Spreading the message through powerful media partnerships and an effective communications strategy resulting in increased public awareness of the importance of science in their lives;
Sustaining the Festival's impact through year-round programming and curriculum development and a content-rich, interactive website; and
Creating a science festival programming template to facilitate the development of more local festivals throughout the United States.
The Festival Advisory Board included Nobel Laureates, leaders of Fortune 100 high technology and life science companies, accomplished serial entrepreneurs and innovators, world-famous translational scientists, decision-makers in government science policy, and proven leaders in science education. Advisory Board members helped recruit Festival partners, participants, and sponsors.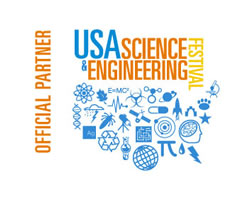 Festival partners were a "who-is-who" of science and engineering organizations in the United States; these include major academic centers, leading research institutes, government agencies, cutting-edge high tech companies, museums, and community organizations. Partners contributed to the Festival in various ways – by spreading the word about the Festival, providing venues, content, media services, and additional contributions. The GLOBE North America Regional Office and The University of Texas at Tyler were honored by the invitation to participate in this grassroots effort to enhance scientific learning methods for students.
View a list of USA Science Festival 2010 Sponsors.
In addition to President Obama's welcome message, Expo Recap videos and science contest opportunities for K-12 students are also available on the festival website.
View the teacher resources page to learn how to involve your students in next year's Expo.
View follow up information on the festival at the USA Science & Engineering Festival Facebook and Twitter pages.
27 December 2010
---
Comments
Please
log-in
to post comments