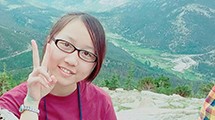 06/15/2017
Tzu-Ying Yang -- STEM Stories: GLOBE Taiwan
"We not only got to share what we learned and what we loved with participants from all over the world, but we also had the opportunity to listen to reports from many experts and other students. Everyone there showed great passion for GLOBE. This made me have even more enthusiasm for learning science and participating in science activities. GLOBE has inspired me a lot. I know now that I want to study Earth Science further."
>>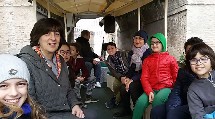 05/16/2016
World Water Day in Mantua, Italy
3.000 students, teachers and community members came together to perform science- and art- related activities in celebration of World Water Day on 22 March as part of the 16th annual "Rivers in Spring" festival.
>>
03/09/2012
GLOBE Partnership in California Shoots for the Stars in Education
The early morning air roared like thunder as a ULA Delta-II rocket soared into the skies over Vandenberg Air Force Base in Santa Maria, California. At 5:48 a.m. on 28 October 2011, NASA launched the National Polar-Orbiting Operational Environmental Satellite System Preparatory Project (NPP) into orbit over Earth.
>>