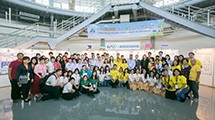 10/17/2018
2018 GLOBE Taiwan Science Festival
For three days in July (20-22) the GLOBE Taiwan Office hosted the 2018 GLOBE Taiwan Science Festival in Taichung, Taiwan. 76 teachers and students from Taiwan, Thailand and the Philippines participated in this event.
>>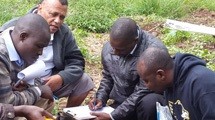 01/12/2016
GLOBE Teacher Training Workshop in Kenya
During December of 2014 the GLOBE Program in Kenya successfully conducted a five-day international GLOBE teacher training workshop. The workshop took place at the Centre for Mathematics, Science and Technology Education in Africa (CEMASTEA) in Nairobi, Kenya.
>>
10/19/2011
Students View Climate Differently From the Summit of Mt. Kilimanjaro
Mt. Kilimanjaro stands 5,895 meters or 19,341 feet above sea level. From this vantage point, the inquiring minds of GLOBE students went to work alongside dedicated educators and scientists who all gathered in Tanzania, Africa for the 3rd annual Kilimanjaro Xpedition––a climb up the largest freestanding mountain in the world.
>>
02/23/2011
Water, Hub of GLOBE Activities in Costa Rica
Costa Rica, one of the most biodiverse countries in the world, is implementing the GLOBE Program as part of the Educational Information Technology Program MED-FOD, a national project initiated in 1988 through a joint effort between the Ministry of Public Education (MEP) and the Omar Dengo Foundation (Fundación Omar Dengo - FOD), a private non-profit organization that has served as the country coordinating office since Costa Rica joined the GLOBE Program on Earth Day, 23 April 1996.
>>
11/12/2010
Stone Child College Leads GLOBE Tribal Initiatives
A GLOBE Partner since 2001, tribally-controlled community college Stone Child College (SCC) of the Chippewa-Cree Tribe offers degree and certificate programs of study. Located in Box Elder, Montana, the college primarily fulfills the educational needs of the Rocky Boy's Indian Reservation.
>>
06/10/2010
GLOBE Europe-Eurasia Region Plans for Climate Research Campaign
On 1-6 June 2010, 42 representatives from 22 European countries met in Ohrid, Macedonia, to discuss regional governance, hold elections of new officers, update one another on national implementation activities and GLOBE student research underway, and begin preparation for GLOBE's upcoming climate research events.
>>