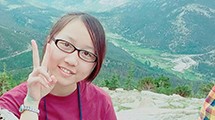 06/15/2017
Tzu-Ying Yang -- STEM Stories: GLOBE Taiwan
"We not only got to share what we learned and what we loved with participants from all over the world, but we also had the opportunity to listen to reports from many experts and other students. Everyone there showed great passion for GLOBE. This made me have even more enthusiasm for learning science and participating in science activities. GLOBE has inspired me a lot. I know now that I want to study Earth Science further."
>>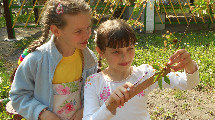 09/22/2015
Ukraine's Student Phenology Campaign "Cherry Ukraine"
GLOBE Ukraine held a Student Phenology Campaign called "Cherry Ukraine." The campaign lasted from February--May 2015. The science of observing budburst/ greenup of cherry trees proved to be attractive and simple for students of all grades, and could be widely applied to to engage the community.
>>
03/30/2012
OPF Girls College in Pakistan Conducts Studies Built on GLOBE Curriculum
Students and their teachers at Overseas Pakistanis Foundation (OPF) Girls College conduct ongoing GLOBE activities in their Earth Science classes. The school is located in the urban center of Islamabad, and attending students range from four to 24 years in age. Islamabad is the 10th largest city in Pakistan, and currently houses over 1.7 million people.
>>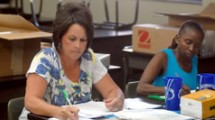 01/24/2012
Oklahoma Partner Obtains Grant to Reinforce GLOBE in the Classroom
GLOBE Partner and Trainer Dr. Cathy Lightsey was awarded the SET GO Grant by the Oklahoma Experimental Program to Stimulate Competitive Research (OK EPSCoR), creating opportunities for elementary and secondary science teachers in Oklahoma to receive training in GLOBE protocol implementation as well as obtain additional materials for their classrooms.
>>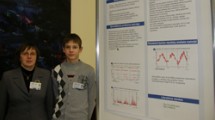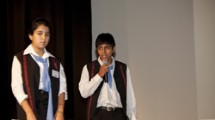 03/08/2011
GLOBE on the Border: Student Achievements in El Paso, Texas, and Sunland Park, New Mexico
Approximately 350 million people cross the U.S./Mexico border each year, making the stretch of land between the Pacific Ocean and the Gulf of Mexico the most frequently crossed international border in the world. GLOBE schools have monitored this area for many years, producing amazing research reports and sharing their results with community members on both sides of the border. Two of the most active border cities, El Paso, Texas, located on the banks of the Rio Grande River across the U.S./Mexico border from Ciudad Juárez, Chihuahua, Mexico, have long operated as a solitary community, with residents shuttling back and forth for both work and leisure.
>>
06/09/2010
GLOBE Iowa 7th Graders Continue Volga River Research Project
United States GLOBE Teacher Bruce Huckins' 7th grade class, at West Central Middle School in Maynard, Iowa, is conducting the second year of the Volga River Project. In 2008, Huckins' class created the project by measuring the Transparency, Nitrate, pH, Dissolved Oxygen, and Water Temperature of the Volga River four times throughout the year, beginning in November. Huckins' current class decided to continue the project and repeat the same tests every month starting in November 2009.
>>