04/25/2012
Second Geoscience Alliance National Conference Strengthens GLOBE Tribal Collaborations
GLOBE has a long history of Tribal College collaboration, initiated through activities with Stone Child, Diné-Shiprock, Little Big Horn, Salish Kootenai, Dull Knife, Blackfeet Community, Fort Peck, and Fort Belknap Colleges of Montana; Crownpoint Institute of Technology of New Mexico; Haskell Indian Nations University of Kansas; and White Earth Tribal & Community College of Minnesota.
>>
04/13/2012
Sound to Sea Program Educates Student Scientists through GLOBE Protocols
For thirteen years GLOBE Partner Sidney Post has worked closely with the Sound to Sea program in North Carolina to integrate GLOBE protocols into the program's backbone, leading to a wealth of information for students and researchers to use. His partnership, the Watershed Action Team, is responsible for recruiting GLOBE schools in the Hope Mills area of North Carolina, training GLOBE teachers, and mentoring GLOBE students in the Cape Fear River Basin.
>>
04/05/2012
Uruguay Students Look for Life in the Miguelete Stream
Since Uruguay joined the GLOBE Program in 1995, students and teachers have been involved in intensive research projects that aim to improve understanding of the environment amongst themselves and their community. The Republic of India Primary School No. 85 is one of the most productive in Uruguay thanks to the work of dedicated GLOBE teacher Patricia Píriz. Since 2010 students in this school have been involved in a research project to verify the presence of aquatic macroinvertebrates in the Miguelete Stream, one of the most important water sources in Montevideo. The stream measures ​​22 kilometers in length and crosses the city from north to south. It was at one time a preferred site for locals to walk and relax, but has become so polluted in recent years that in 2003 it was categorized as a "dead water course" by "Geo-Uruguay Juvenil," the document on the state of the Environment in 2003. The same was reported by the "Primer Informe Ambiental Montevideo" (IMM) in 2001 when the only existence of an arthropod, an annelid, and a mollusk was reported in the Miguelete.
>>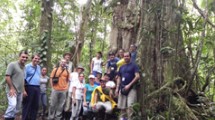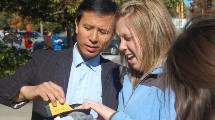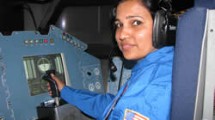 08/04/2011
GLOBE India Teacher Attends Space Academy for Educators
Dr. Annu Mathur, GLOBE Trainer and Teacher at MGD Girls' School in Jaipur, India, was selected by the U.S. Embassy to participate in the Space Academy for Educators Program in Huntsville, Alabama, from 5 - 11 June 2011.
>>
04/15/2011
Teachers in Udaipur, India, Receive Field-Based GLOBE Training
The Indian Environmental Society, along with the support of the Public Affair Section of American Embassy in New Delhi, organized a GLOBE Teacher Training Workshop in Udaipur, Rajasthan, India. Teachers from various schools across the state of Rajasthan participated in this program from 27-30 January 2011.
>>
03/08/2011
GLOBE on the Border: Student Achievements in El Paso, Texas, and Sunland Park, New Mexico
Approximately 350 million people cross the U.S./Mexico border each year, making the stretch of land between the Pacific Ocean and the Gulf of Mexico the most frequently crossed international border in the world. GLOBE schools have monitored this area for many years, producing amazing research reports and sharing their results with community members on both sides of the border. Two of the most active border cities, El Paso, Texas, located on the banks of the Rio Grande River across the U.S./Mexico border from Ciudad Juárez, Chihuahua, Mexico, have long operated as a solitary community, with residents shuttling back and forth for both work and leisure.
>>
02/28/2011
AMSTI-GLOBE Promotes GLOBE Days and Science on a Sphere at ASTA Conference
AMSTI-GLOBE a Partnership between the GLOBE Program and the Alabama Math, Science, and Technology Initiative (AMSTI), was busy last year with a host of events. On 12-13 October, fifth through eighth grade Stevenson Middle School students spent two days exploring Earth and environmental science activities during GLOBE Days in Stevenson, Alabama. GLOBE was integrated through Hydrology, Land Cover, and a number of GPS activities including geocaching, races, and mapping games.
>>