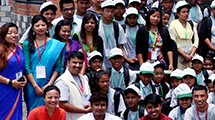 07/19/2017
National Child Club Conference in Nepal
During the conference the students learned how they can take part in practical science and how to view and analyze data collected from around the world.
>>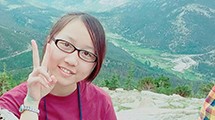 06/15/2017
Tzu-Ying Yang -- STEM Stories: GLOBE Taiwan
"We not only got to share what we learned and what we loved with participants from all over the world, but we also had the opportunity to listen to reports from many experts and other students. Everyone there showed great passion for GLOBE. This made me have even more enthusiasm for learning science and participating in science activities. GLOBE has inspired me a lot. I know now that I want to study Earth Science further."
>>
04/25/2012
Second Geoscience Alliance National Conference Strengthens GLOBE Tribal Collaborations
GLOBE has a long history of Tribal College collaboration, initiated through activities with Stone Child, Diné-Shiprock, Little Big Horn, Salish Kootenai, Dull Knife, Blackfeet Community, Fort Peck, and Fort Belknap Colleges of Montana; Crownpoint Institute of Technology of New Mexico; Haskell Indian Nations University of Kansas; and White Earth Tribal & Community College of Minnesota.
>>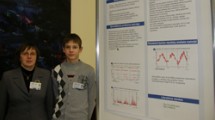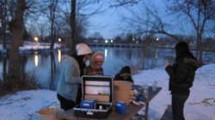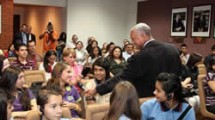 02/28/2011
AMSTI-GLOBE Promotes GLOBE Days and Science on a Sphere at ASTA Conference
AMSTI-GLOBE a Partnership between the GLOBE Program and the Alabama Math, Science, and Technology Initiative (AMSTI), was busy last year with a host of events. On 12-13 October, fifth through eighth grade Stevenson Middle School students spent two days exploring Earth and environmental science activities during GLOBE Days in Stevenson, Alabama. GLOBE was integrated through Hydrology, Land Cover, and a number of GPS activities including geocaching, races, and mapping games.
>>