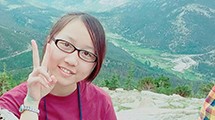 06/15/2017
Tzu-Ying Yang -- STEM Stories: GLOBE Taiwan
"We not only got to share what we learned and what we loved with participants from all over the world, but we also had the opportunity to listen to reports from many experts and other students. Everyone there showed great passion for GLOBE. This made me have even more enthusiasm for learning science and participating in science activities. GLOBE has inspired me a lot. I know now that I want to study Earth Science further."
>>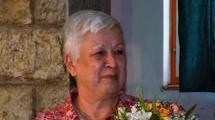 04/17/2017
Mira Hrvatin -- STEM Stories: GLOBE Croatia
Mira Hrvatin joined the GLOBE Program back in 1998. Hrvatin and her students' study initiated changes on both the local and national scale. In 2007, a Law on Protection Against Light Pollution was passed by the Croatian Parliament.
>>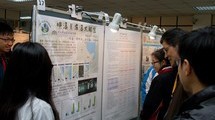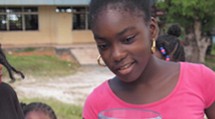 02/15/2017
Educating Students in Suriname: GLOBE Atmosphere Protocol
GHFS presented on and educated the children in the GLOBE Atmosphere Protocol. Their aim was to provide the villagers of Brownsweg a better understanding of the Earth's climate. The students participated by taking weather station measurements, making rain gauges and thermometers from plastic bottles, art-inspired projects on clouds, and doing data entry on the GLOBE website.
>>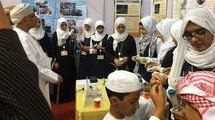 02/08/2017
GLOBE Students Present at Science Fair in Oman
Between 20-22 March 2016, GLOBE Oman held the Scientific Student Inventions of Artificial Intelligence and GLOBE's Environmental Research Fair at the Ministry of Education's stage. The number of participating students in the event this year reached an impressive 118, with 30 of those students presenting in an entire wing for the GLOBE program.
>>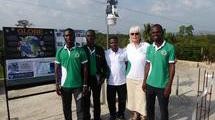 01/26/2017
GLOBE Weather Station Installed During Teacher Training in Ghana
Heyne-Mudrich brought a new weather station to the Westphalian Senior High School in Oyoko, Ghana. (This weather station was sponsored by the Gymnasium Schloß Neuhaus in Paderborn, Germany.) The weather station was successfully installed on the roof of the school's new laboratories.
>>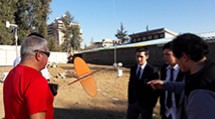 01/11/2017
Conducting Atmospheric Experiments and Raising Awareness in Chile
The meterological campaign conducted by Professor Nicolás Huneeus Ph.D involved a cycle of measurements at three sites in Santiago, Chile to record the standard environmental parameters of temperature, atmospheric pressure, relative humidity, wind, and wind direction.
>>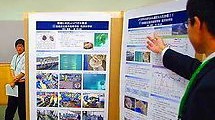 12/12/2016
GLOBE Japan Student Conference Held in Tokyo
The 9th GLOBE Japan Student Conference was held from 3-4 December 2016 at the National Olympics Memorial Youth Center in Tokyo. Students from 15 GLOBE schools (and one non-GLOBE school) took part in this event supported by the Japanese Ministry of Education, Culture, Sports, Science and Technology (MEXT).
>>