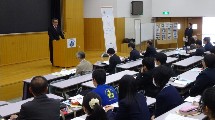 02/04/2015
GLOBE Japan Student Conference Held in Tokyo
The 8th GLOBE Japan Student Conference was held from 12 -- 14 December 2014 at the National Olympics Memorial Youth Center in Tokyo. Students from sixteen GLOBE schools took part in this event supported by the Japanese Ministry of Education, Culture, Sport, Science and Technology (MEXT).
>>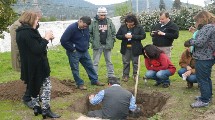 01/22/2015
GLOBE Expands in Chile
On 13 August 2014, 15 schools in the Greater Metropolitan Region of Chile began their journey with The GLOBE Program. The U.S. Embassy, through funding from its Science Corner partnership with the University of Talca, provided GLOBE equipment to 15 schools for a 2014 pilot program in collaboration with the Chilean Ministry of Education, EXPLORA, and several Chilean universities.
>>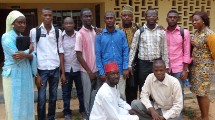 01/21/2015
Nigeria joins NASA's Global Precipitation Measurement (GPM) Field Campaign
Nigeria is onboard with GLOBE's Global Precipitation Measurement (GPM) satellite mission. Mr. Olawale Ayodeji Oluwafemi, a GLOBE Partner and scientist at the Nigerian Space Agency's Centre for Geodesy and Geodynamics, responded to NASA's request to scientists all over the world to join NASA's global awareness campaign about the GPM satellite mission.
>>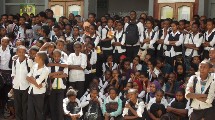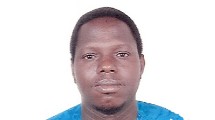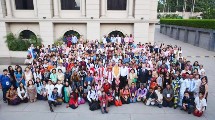 10/21/2014
2014 GLOBE Learning Expedition in New Delhi, India
The 5th GLOBE Learning Expedition (GLE) took place from 4-8 August 2014 in New Delhi, India. More than 300 participants from 30 countries took part in a range of educational activities including research and poster presentations, field studies and dialogue with keynote speakers and scientists.
>>
06/17/2014
Oman Hosts Its First GLOBE Science Fair
The Ministry of Education in Oman organized a five-day training event for teachers and supervisors from 22 schools, including ten new schools, to the Sultanate's GLOBE Program. With the addition of these new schools, the GLOBE Program is now active in every region in Oman.
>>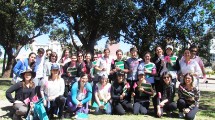 02/11/2014
Teacher Training Workshop in Montevideo, Uruguay
Twenty pre-service teachers preparing for careers in primary schools and secondary schools as well as biology and geography teachers from high schools throughout Uruguay, came together for a teacher training in Montevideo on 5-6 November 2013.
>>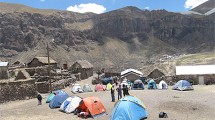 12/30/2013
Schools in the Cotahuasi Area of Peru Take Learning Outdoors
Schools from the Cotahuasi area have had environmental educational camping trips with 70 GLOBE club participants every spring, over the past 5 years. Each year has an emphasis area. This year, the focus was on the habitat of an amazing cactus Puya Raimondi. Students were organized into study groups to measure and document; weather, clouds, land cover, water quality and bird sighting and habitat. The giant Puya Raimondi cacti grows up to 4 meters in height and are rare and endangered due to habitat loss. The cactus produces flowers once every 80-100 years, and then dies. The flowers provide nectar to a wide variety of birds and insects; including the Giant Hummingbird.
>>
12/16/2013
Community Spotlight - Diana R. Johns
Diana R. Johns, a teacher of Advanced Placement Environmental Science (APES) at Crestwood High School in Dearborn Heights, Michigan USA, has been involved with GLOBE since 1995 and has influenced the path of many students over the years. Two of her students, 17 year-olds Ahmad Awada and Hussein Makki, recently earned first place at the GLOBE Student Research Exhibition for their research project "Correlations between vernal pool phenology and a breeding population of Bufo americanus (a species of toad) in Dearborn Heights, Michigan."
>>