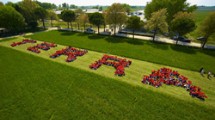 07/08/2011
GLOBE Students Across the World Celebrate Earth Day 2011
Sixteen years ago, on Earth Day, 22 April 1995, the GLOBE program was launched. In 2011, the international GLOBE network has grown to include 111 participating countries, with each country implementing GLOBE into local schools and communities.
>>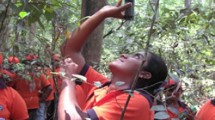 06/17/2011
2011 Europe & Eurasia GLOBE Annual Conference in Kiev, Ukraine
The Europe & Eurasia GLOBE Annual Conference and national training event was held from 1-6 June in the National Ecology and Nature Center in Kiev, Ukraine. Representatives from 20 countries including Croatia, Cyprus, Czech Republic, Estonia, Finland, France, Hungary, Iceland, Israel, Italy, Latvia, Lithuania, Netherlands, Norway, Poland, Russia, Switzerland, U.K., U.S. and Ukraine attended to discuss future regional activities for GLOBE and exchange ideas.
>>
04/15/2011
Teachers in Udaipur, India, Receive Field-Based GLOBE Training
The Indian Environmental Society, along with the support of the Public Affair Section of American Embassy in New Delhi, organized a GLOBE Teacher Training Workshop in Udaipur, Rajasthan, India. Teachers from various schools across the state of Rajasthan participated in this program from 27-30 January 2011.
>>
04/07/2011
University Students Use GLOBE Data to Carry Out Climate Research
Second year meteorology students from Peru's National Agrarian University in La Molina carried out a research project concerning the latitudinal variation of the Earth's air temperature using data from GLOBE Schools located in different parts of the world. This research was conducted by students with the guidance of GLOBE Teacher and Master Trainer Claudia Caro Vera.
>>
03/08/2011
GLOBE on the Border: Student Achievements in El Paso, Texas, and Sunland Park, New Mexico
Approximately 350 million people cross the U.S./Mexico border each year, making the stretch of land between the Pacific Ocean and the Gulf of Mexico the most frequently crossed international border in the world. GLOBE schools have monitored this area for many years, producing amazing research reports and sharing their results with community members on both sides of the border. Two of the most active border cities, El Paso, Texas, located on the banks of the Rio Grande River across the U.S./Mexico border from Ciudad Juárez, Chihuahua, Mexico, have long operated as a solitary community, with residents shuttling back and forth for both work and leisure.
>>
01/18/2011
Wisconsin Students Design T-Shirts to Signify GLOBE Team Spirit
Kohler High School in Kohler, Wisconsin offers participation in the GLOBE Program as an academic, extra-curricular activity. Through GLOBE, students learn how the atmosphere affects them and their environment and apply these findings to their daily lives. GLOBE Teacher Ms. Jessie Good stated, "GLOBE is a scholarly program in our high school that attracts students who are academically motivated and are interested in global environmental issues."
>>