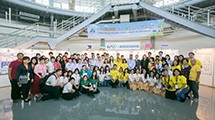 10/17/2018
2018 GLOBE Taiwan Science Festival
For three days in July (20-22) the GLOBE Taiwan Office hosted the 2018 GLOBE Taiwan Science Festival in Taichung, Taiwan. 76 teachers and students from Taiwan, Thailand and the Philippines participated in this event.
>>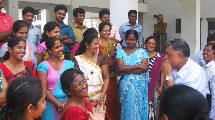 11/16/2016
Teachers, Trees and Trainings in Sri Lanka
Between 2-3 October 2016, GLOBE Sri Lanka held a teacher training for the teachers of the 12th GLOBE teacher group at the National Institute for Education (Maharagama, Colombo, Sri Lanka). During the two-day training, teachers were instructed in the biosphere protocol.
>>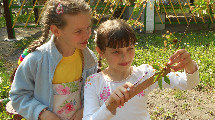 09/22/2015
Ukraine's Student Phenology Campaign "Cherry Ukraine"
GLOBE Ukraine held a Student Phenology Campaign called "Cherry Ukraine." The campaign lasted from February--May 2015. The science of observing budburst/ greenup of cherry trees proved to be attractive and simple for students of all grades, and could be widely applied to to engage the community.
>>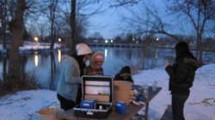 04/15/2011
Teachers in Udaipur, India, Receive Field-Based GLOBE Training
The Indian Environmental Society, along with the support of the Public Affair Section of American Embassy in New Delhi, organized a GLOBE Teacher Training Workshop in Udaipur, Rajasthan, India. Teachers from various schools across the state of Rajasthan participated in this program from 27-30 January 2011.
>>
01/18/2011
Wisconsin Students Design T-Shirts to Signify GLOBE Team Spirit
Kohler High School in Kohler, Wisconsin offers participation in the GLOBE Program as an academic, extra-curricular activity. Through GLOBE, students learn how the atmosphere affects them and their environment and apply these findings to their daily lives. GLOBE Teacher Ms. Jessie Good stated, "GLOBE is a scholarly program in our high school that attracts students who are academically motivated and are interested in global environmental issues."
>>