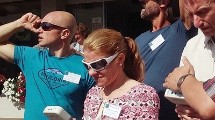 12/15/2015
Europe Aerosols Campaign
The GLOBE Community in Europe is engaged in a two-year campaign (2014-2016) to learn more about aerosols and the atmosphere.
>>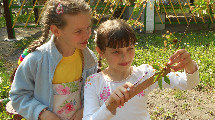 09/22/2015
Ukraine's Student Phenology Campaign "Cherry Ukraine"
GLOBE Ukraine held a Student Phenology Campaign called "Cherry Ukraine." The campaign lasted from February--May 2015. The science of observing budburst/ greenup of cherry trees proved to be attractive and simple for students of all grades, and could be widely applied to to engage the community.
>>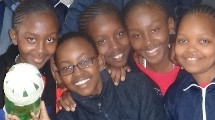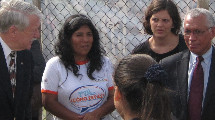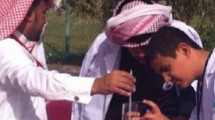 04/29/2015
GLOBE Training in Saudi Arabia
Approximately 150 teachers and local coordinators representing all Educational Directorates in Saudi Arabia, came together in Al-Ahsa to be trained in basic GLOBE protocols in Atmosphere, Hydrology and Soil, as well as GPS and data entry.
>>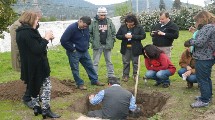 01/22/2015
GLOBE Expands in Chile
On 13 August 2014, 15 schools in the Greater Metropolitan Region of Chile began their journey with The GLOBE Program. The U.S. Embassy, through funding from its Science Corner partnership with the University of Talca, provided GLOBE equipment to 15 schools for a 2014 pilot program in collaboration with the Chilean Ministry of Education, EXPLORA, and several Chilean universities.
>>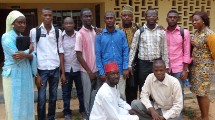 01/21/2015
Nigeria joins NASA's Global Precipitation Measurement (GPM) Field Campaign
Nigeria is onboard with GLOBE's Global Precipitation Measurement (GPM) satellite mission. Mr. Olawale Ayodeji Oluwafemi, a GLOBE Partner and scientist at the Nigerian Space Agency's Centre for Geodesy and Geodynamics, responded to NASA's request to scientists all over the world to join NASA's global awareness campaign about the GPM satellite mission.
>>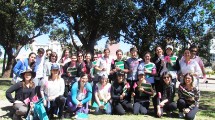 02/11/2014
Teacher Training Workshop in Montevideo, Uruguay
Twenty pre-service teachers preparing for careers in primary schools and secondary schools as well as biology and geography teachers from high schools throughout Uruguay, came together for a teacher training in Montevideo on 5-6 November 2013.
>>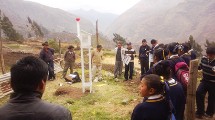 12/02/2013
Peruvian Institution of Education Javier Perez de Cuellar Installs Weather Station
The Peru Ministry of Environment and National Coordinator of GLOBE have been promoting GLOBE nationwide as a valuable tool for the development of a scientific culture in children and youth of the country. On 14 October 2013, the Institution of Education (I.E.) Javier Perez de Cuellar Carampoma District in the Province of Huarochirí in Lima, joined the GLOBE Program by installing an instrument shelter that contains the necessary tools for measuring and monitoring atmospheric data.
>>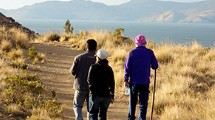 11/25/2013
GLOBE Expands to Schools and Regions Throughout Peru
Multiple trainings were held in southern Peru in the month of October 2013 in the Region of Moquegua, at schools in Omate, Moquegua, and Ilo. The trainings focused on the use of GLOBE Atmosphere protocols with an emphasis on climate, using weather stations and equipment such as maximum / minimum thermometers provided by the Ministry of Environment. Teachers, students and municipal representatives participated in the hands-on training.
>>