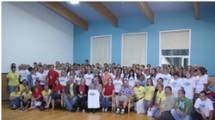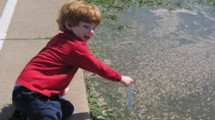 08/22/2011
GLOBE Students Practice Sun Photometer Use in Kiskunhalas, Hungary
On 26-28 May 2011, six Hungarian schools came together in Kiskunhalas, a city in southern Hungary located about 130km south of Budapest, to share research and discuss proper use of the sun photometer, an instrument used to collect data when performing the GLOBE Aerosols Protocol.
>>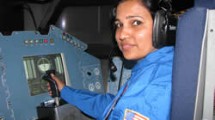 08/04/2011
GLOBE India Teacher Attends Space Academy for Educators
Dr. Annu Mathur, GLOBE Trainer and Teacher at MGD Girls' School in Jaipur, India, was selected by the U.S. Embassy to participate in the Space Academy for Educators Program in Huntsville, Alabama, from 5 - 11 June 2011.
>>
04/15/2011
Teachers in Udaipur, India, Receive Field-Based GLOBE Training
The Indian Environmental Society, along with the support of the Public Affair Section of American Embassy in New Delhi, organized a GLOBE Teacher Training Workshop in Udaipur, Rajasthan, India. Teachers from various schools across the state of Rajasthan participated in this program from 27-30 January 2011.
>>
04/07/2011
University Students Use GLOBE Data to Carry Out Climate Research
Second year meteorology students from Peru's National Agrarian University in La Molina carried out a research project concerning the latitudinal variation of the Earth's air temperature using data from GLOBE Schools located in different parts of the world. This research was conducted by students with the guidance of GLOBE Teacher and Master Trainer Claudia Caro Vera.
>>
04/05/2011
GLOBE Estonia Brainstorms New Teaching Methods at Seasons and Biomes Workshop
On 10-13 March 2011, GLOBE Teachers, Trainers and Scientists from Belgium, Estonia, Switzerland, and the United States met in Estonia for a four-day Seasons and Biomes workshop. The organizing team consisted of Dr. Elena Sparrow, PI of the ESSP Seasons and Biomes project as well as the Alaska UAF GLOBE Partner Coordinator, Ms. Martha Kopplin, Project Coordinator for the Seasons and Biomes project and GLOBE Trainer, and GLOBE Scientist Mr. Bill Kopplin.
>>
02/28/2011
AMSTI-GLOBE Promotes GLOBE Days and Science on a Sphere at ASTA Conference
AMSTI-GLOBE a Partnership between the GLOBE Program and the Alabama Math, Science, and Technology Initiative (AMSTI), was busy last year with a host of events. On 12-13 October, fifth through eighth grade Stevenson Middle School students spent two days exploring Earth and environmental science activities during GLOBE Days in Stevenson, Alabama. GLOBE was integrated through Hydrology, Land Cover, and a number of GPS activities including geocaching, races, and mapping games.
>>