GLOBE Celebrates 10th Anniversary
Earth Day 2004 marked a significant milestone for the NASA and NSF sponsored GLOBE Program. In celebration of the GLOBE Program's 10th Anniversary, GLOBE launched the following student field campaigns:
Contrail Count-a-Thon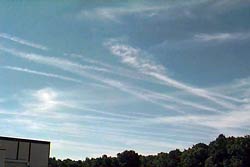 NASA and GLOBE conducted a worldwide experiment on Earth Day, April 22, 2004. Everyone interested in helping develop a better understanding of the Earth was invited to join. NASA worked with GLOBE to help achieve its mission of inspiring the next generation of explorers.
Participants observed contrails, clouds formed from water vapor in aircraft exhaust, and report their findings to scientists. Observations were tallied and reported state-by-state and country-by-country to illuminate any patterns of contrail activity.
"Contrails are one change in the Earth's system that are without a doubt caused by human activity, so it is appropriate that on Earth Day we assess how people are impacting the state of our planet," said Lin Chambers, director of the Contrail Education project, in partnership with GLOBE, at NASA Langley Research Center, Hampton, Virginia.The observation experiment, called the Earth Day 2004 Contrail Count-a-Thon, was an opportunity to become involved in a hands-on, real-world science experiment. For this activity, GLOBE and NASA encouraged the public around the world, including students and non-students alike, to participate.
Contrails represent a human-caused increase in the Earth's cloudiness and impact the atmosphere and climate. Observations by people in the United States and around the globe may help scientists better understand under what atmospheric conditions contrails form.
"We thought spotting contrails would be a fun and educational activity that could include more schools and the general public since no instruments are required," said Peggy LeMone, GLOBE chief scientist at the University Corporation for Atmospheric Research (UCAR), Boulder, Colo. "The distribution of sightings tells us both about where jets are flying and where weather conditions favor contrails forming. We can also compare the contrail patterns to satellite images."
GLOBE ONE
From spring 2004 through fall 2005, K-12 students in Black Hawk County, Iowa conducted a field campaign working with scientists and their local community. GLOBE ONE looked at how land cover affects the local soil, atmosphere, water, and plant growth/development. In Black Hawk County, this meant studying agriculture -- the year-round land cover associated with growing corn and soybeans - including soil tillage techniques and crop residue retention. Students also studied urban areas and prairies.
GLOBE Field Campaign in Mexico, Trinidad and Tobago, and the U.S.
Students from Mexico, Trinidad and Tobago, and the U.S. undertook an intensive Earth Day field campaign, taking measurements and discussing them on an Earth Day Web chat. This field campaign was an extension of the collaboration among these countries that began as part of the "White Water to Blue Water Partnership Conference" a U.S. sponsored gathering to increase cooperation in protecting marine and coastal ecosystems in the Caribbean, including the Gulf of Mexico. The GLOBE partners also invited other countries in the wider Caribbean region to join in similar annual events and to promote continuous collaboration among GLOBE schools to study the region's environment.
The GLOBE Soil Moisture Campaign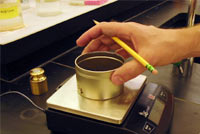 The GLOBE Soil Moisture Campaign was a project that helped young people understand the importance of soil moisture as a natural resource. Using a small amount of low-budget, low tech equipment, and a bit of planning, teachers and students collected samples twice annually within nine-day campaign time windows tied to the week surrounding Earth Day (Apr. 17-25, 2004) and Earth Science Week (Oct.11-19, 2003).