Seasons and Climatic Factors Affecting Dengue Cases in Muang Nakhon Si Thammarat, Thailand
Student(s):Phuwadon Noradin, Thiranai Keatpimol, Thanayot Muangkeaw
Grade Level:Secondary School (grades 9-12, ages 14-18)
Contributors:Assoc. Prof. Dr. Krisanadej Jaroensutasinee, Assoc. Prof. Dr. Mullica Jaroensutasinee, Dorian Janney(GPM) and Anantanit Chumsri Princess Chulabhorn's College Nakhon Si Thammarat and Center of Excellence for Ecoinformatics, the Institute of Research and Development, Walailak University and NECTEC.
Report Type(s):International Virtual Science Symposium Report
Protocols:
Optional Badges:Make An Impact
Language(s):
Date Submitted:03/11/2016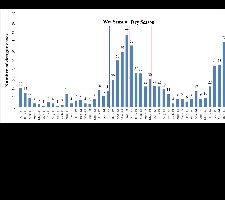 This study investigated climatic factors affecting dengue cases and house index in Nakhon Si Thammarat, Thailand. We randomly selected 32 households, and collected mosquito larvae from indoor and outdoor water containers. We identified Aedes aegypti, and Ae. albopictus larvae up to species level under microscope. We compared dengue cases between wet and dry seasons during 2011-2015. The results showed that dengue cases in the wet season were higher than in the dry season. Relative humidity was positively correlated with dengue cases in this area. From the mosquito larva data collected in March 2016, Muang Nakhon Si Thammarat had house index of 59.38% for Ae. aegypti larvae and 62.50% for Ae. albopictus larvae. This indicated that Muang Nakhon Si Thammarat is the dengue high risk area according to the WHO standard for dengue risk area.
Comments