Analysis of Aerosol Optical Thickness Data During the Fall and Winter Michigan Months
Student(s):Sara Komaiha Ali Eter Leanne Alawieh Maysam Aidibi Hana Salami
Grade Level:Secondary School (grades 9-12, ages 14-18)
Contributors:David R. Brooks Margaret Pippin
Report Type(s):International Virtual Science Symposium Report
Protocols:
Optional Badges:Be a Collaborator, Be a STEM Professional, Be a Data Scientist
Language(s):
Date Submitted:04/03/2017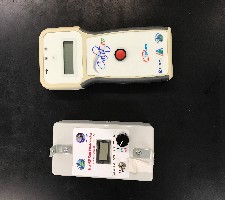 Aerosols are tiny, suspended particles in the atmosphere. They can be naturally occurring, such as from forest fires, or anthropogenic. A group researched the effects of barometric pressure, particulate matter, and sulfates on aerosols. Two handheld devices were used to take this data continuously over a four month period. Sky conditions such as cloud coverage or haze disallow the taking of measurements, as they block the sun. The readings the GLOBE photometer provided were inputted into the GLOBE data website (GLOBE.gov) to calculate the AOT (Aerosol Optical Thickness) value, while the Tenum's Calitoo calculated this value directly. However, errors in the website did not give accurate information and so the use of scientist David Brooks' device to calculate AOT was necessary to complete the comparison. To efficiently compare AOT with barometric pressure, particulate matter, and sulfate particles, the data was plotted and a paired t-test was conducted to find how strongly they correlate. The data showed r-values that were very close to zero for all of the research. From these r-values, it can be concluded that there is little to no correlation with any of these factors. It was also found that the GLOBE photometer and the Calitoo had only some correlations. From here, the group can further understand the topic of aerosols by working with other sites that are taking measurements similar to the ones being taken at Crestwood High School to potentially identify causes of this problem, such as Tehnicka Skola Daruvar in Croatia which has been inputting data in GLOBE during the course of this project using similar wavelengths. After graphing the data and conducting a paired t-test, a correlation between the two sites was evident. In the end, the goal of working with more sites will bring more attention to the topic of aerosols.
Comments