The pH and amount of rain together with temperatures during Winter in an Urban area of Malta.
Student(s):Luca Vella Zach Bartolo Miguel Gauci
Grade Level:Secondary School (grades 9-12, ages 14-18)
Contributors:
Report Type(s):International Virtual Science Symposium Report, Standard Research Report
Protocols:Air Temperature, Precipitation, Relative Humidity, pH
Optional Badges:Be a Collaborator, Be a Data Scientist, Be a STEM Professional
Language(s):English
Date Submitted:03/06/2020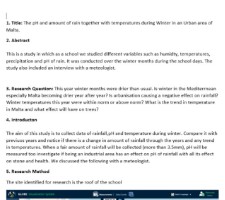 This is a study in which as a school we studied different variables such as humidty, temperatures, precipitation and pH of rain. It was conducted over the winter months during the school days. The study also included an interview with a meteologist.
Comments