Facebook is Money Motivated... GLOBE is Making Changes
Oct 31, 2012
Now that Facebook is a publicly traded company, it requires GLOBE (and all other non-profits, companies, etc.) to pay to promote status updates. While the "pay-to-play" model goes against the very fabric of what Facebook was founded on, the new reality means that people––like you––who have already "liked" our Facebook page, may no longer see our posts unless GLOBE pays Facebook to promote each post.
To ensure you receive our content, follow these four simple steps. It will guarantee that you are connected to the daily conversation as well as the broader GLOBE community.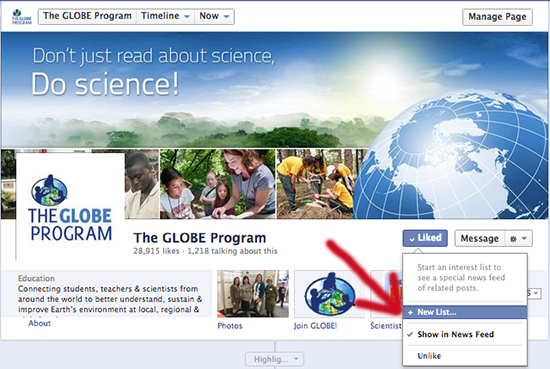 STEP 1: Mouse over the "Like" button at the top of our page across from where it says "The GLOBE Program".
STEP 2: In the drop-down menu select "Add To Interest Lists".
STEP 3: Then create an interest list (and make a name for your favorite sites). By selecting the interest list, you will again receive GLOBE's Facebook posts.
In addition, this is also a great way to filter and organize your most influential Facebook feeds. We encourage you to share these instructions with your broader network, as they will work for any and all fan pages worldwide.
type: globe-news
News origin: GLOBE Implementation Office
---
Comments