GLOBE Recognizes Top Teams for GLOBE/SMAP Data Collection for December 2015
Jan 08, 2016
December 2015 was a busy month for soil moisture data collection. Many new schools joined the SMAP Soil Moisture Measurement Field Campaign, almost doubling the data collection for November 2015. The GLOBE Program would like to congratulate all particpants for their excellent work and dedication to this campaign.
The chart, shown below, shows data counts for December 2015, entire field campaign, and data collected since the January 31, 2015 launch of the SMAP satellite.
The Top Three Teams for December are:
III. Osnovna skola Varazdin, Croatia, with 31 data counts
Shumate Middle School (Michigan, USA) and Medford Memorial Middle School (New Jersey, USA) – a tie, both with 13 data counts
Alfred State College (New York, USA) and Ramey School (Puerto Rico, USA) – a tie, both with 8 data counts
Please visit the GLOBE/SMAP Soil Moisture Measurement Field Campaign web pages to follow all of the current campaign information and updates -- including past webinars, blogs, and everything you need to know about collecting soil moisture measurements using the SMAP Block Pattern Soil Moisture Protocol, as well as view the new protocol instructional video.
The next webinar will be held on 2 February 2016 (4 p.m. ET/9 p.m. UTC): "1 Year of the SMAP Mission and Global Shout-Outs to all the GLOBE schools/teams collecting SMAP soil moisture data." The webinar link is: https://gsfc610.adobeconnect.com/globesmap/
Read the campaign-related blogs at: http://www.globe.gov/web/smap/overview/blog-posts. If you would like to guest blog about your SMAP protocol measurement experience, please contact Brian Campbell, Senior NASA Earth Flight Science Education and Communication Specialist at brian.a.campbell@nasa.gov.
NOTE: The GLOBE Program is aware that some particpiants have frozen soil and are unable to collect the soil moisture data. Currently, GLOBE is working on getting a "Is the soil frozen?" checkbox as part of the Live Data Entry Sheet for the SMAP protocol. This will allow you to say that the soil is frozen and that data will be collected on the GLOBE page. This is vital data to the SMAP campaign. The radiometer onboard the satellite can determine whether or not the soil is frozen based on the microwave signal received. With the addition of your data, the satellite data can be validated.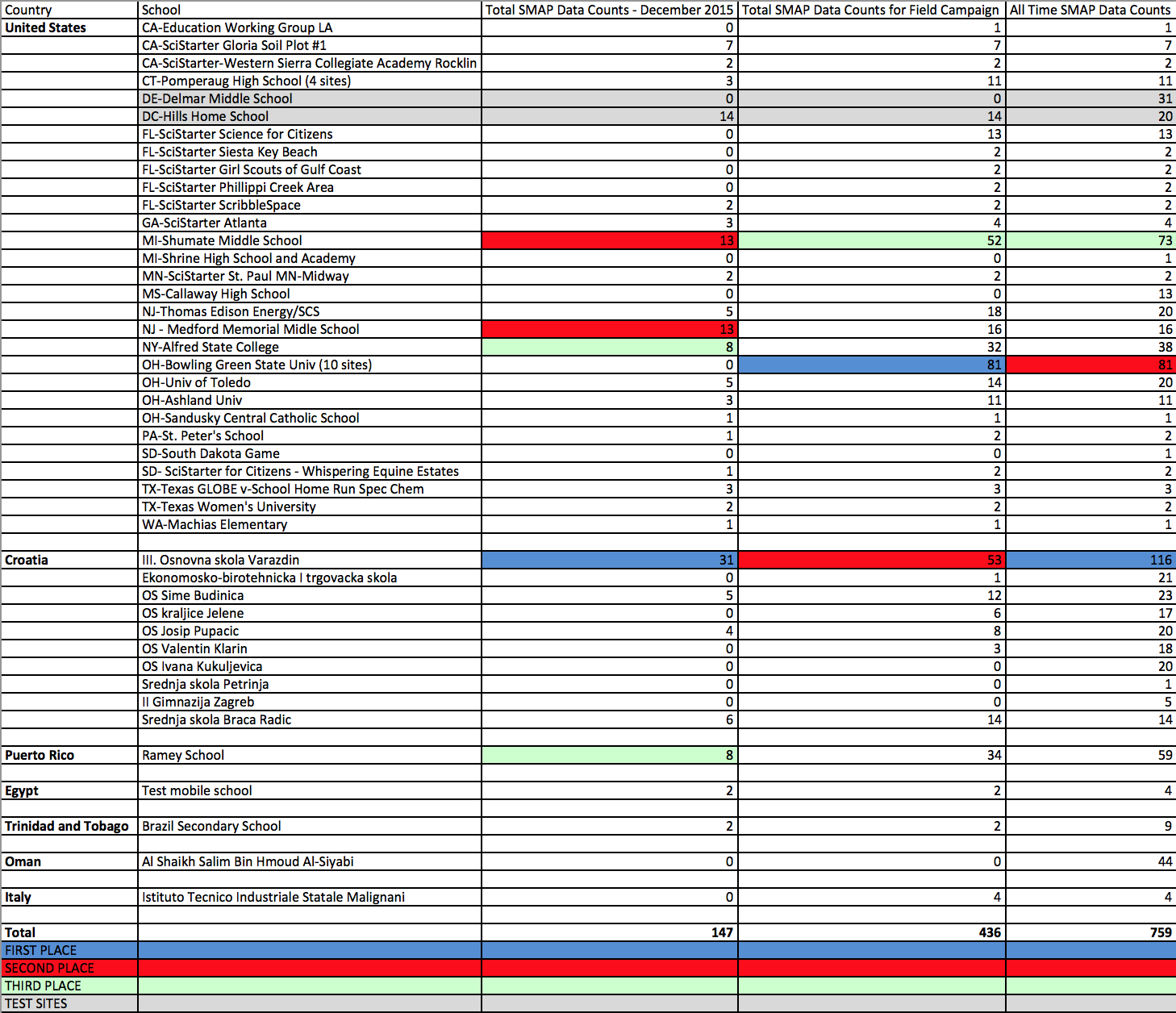 type: globe-news
News origin: GLOBE Implementation Office