GLOBE/SMAP Block Pattern Data Information and Revised Data Report
Jan 08, 2016
In response to inquiries regarding data not showing up on the GLOBE Visualization Map under the SMAP Block Pattern layer, The GLOBE Program would like to get the word out that participating schools/teams must be inputting the data via the SMAP Block Pattern Soil Moisture Protocol. If another protocol is used, the data will not show up in the SMAP layer on the map.
Also, if you are part of the larger SciStarter group of schools, some of your sites are not seen on the map as your exact location during the search. They are part of the larger SciStarter location. The GLOBE Implementation Office is looking into why some schools are not specifically showing up.
A revised data report (see below) has been released – and shows every school that has registered their site (to do the SMAP protocol) and those that have entered data.
You can visit the GLOBE/SMAP Soil Moisture Measurement Field Campaign web pages to follow all of the current campaign information and updates -- including past webinars, blogs, and everything you need to know about collecting soil moisture measurements using the SMAP Block Pattern Soil Moisture Protocol, as well as view the new protocol instructional video.
The next webinar will be held on 2 February 2016 (4 p.m. ET/9 p.m. UTC): "1 Year of the SMAP Mission and Global Shout-Outs to all the GLOBE schools/teams collecting SMAP soil moisture data." The webinar link is: https://gsfc610.adobeconnect.com/globesmap/
Read the campaign-related blogs at: http://www.globe.gov/web/smap/overview/blog-posts. If you would like to guest blog about your SMAP protocol measurement experience, please contact Brian Campbell, Senior NASA Earth Flight Science Education and Communication Specialist at brian.a.campbell@nasa.gov.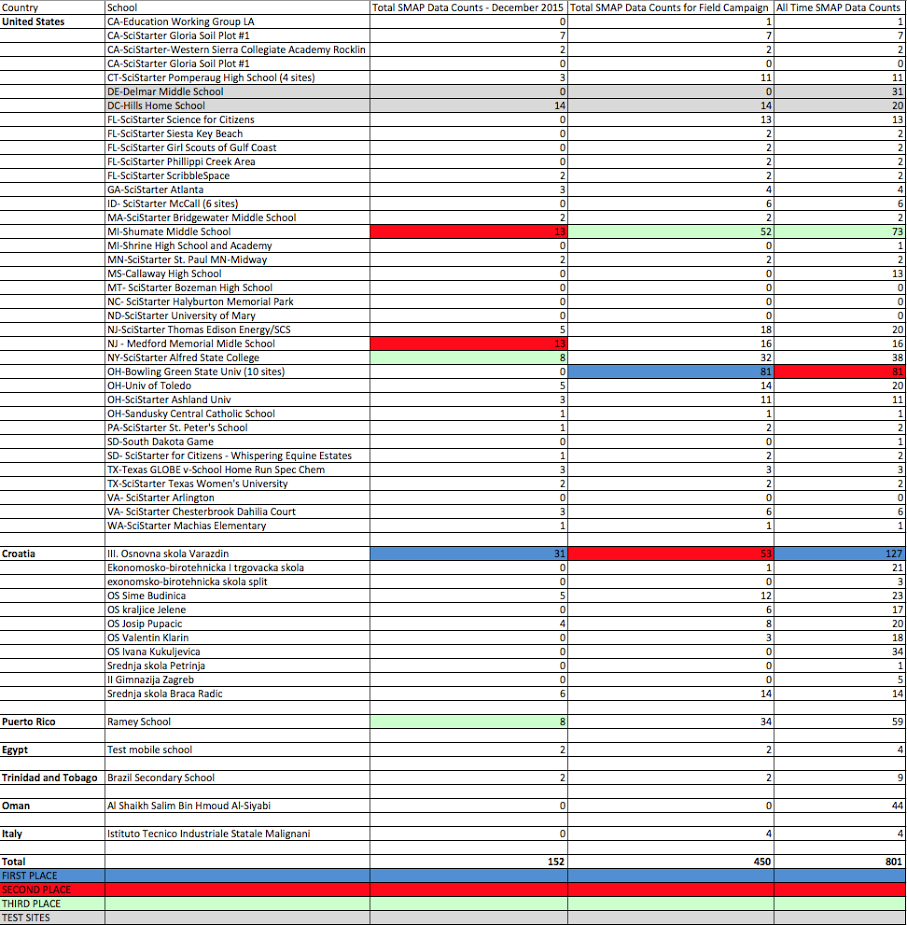 type: globe-news
News origin: GLOBE Implementation Office