Recap of the 20th GLOBE Annual Meeting and 4th Student Research Exhibition
Jul 28, 2016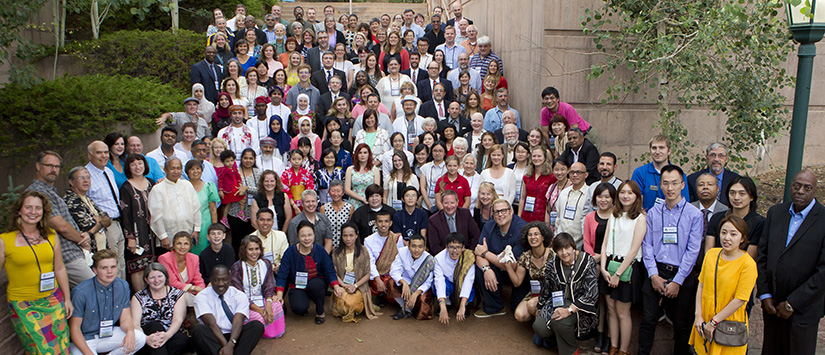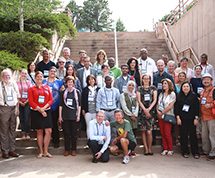 More that 200 participants from 31 countries, including GLOBE students, teachers, scientists, US Partners and International Country Coordinators, descended upon Estes Park, Colorado last week for the 20th GLOBE Annual Meeting and 4th Student Research Exhibition.
The Meeting officially began with a Welcome Reception on the evening of Saturday 16 July. However early arrivers such as GLOBE Country Coordinators, Regional Office Coordinators and members of the Working Groups, had already held preliminary meetings to discuss their progress and unique concerns during the days preceding the Annual Meeting.
The very full all-GLOBE agenda began on Sunday 17 July, with opening remarks by Meeting organizers Colorado Partner Deanna TeBockhorst; UCAR Science and Education Director John Ristvey; Director of UCAR Community Programs Bill Kuo; NASA Program Manager Ming Ying Wei; NSF Program Manager Brandon Jones; NOAA Education Deputy Director Christos Michalopoulos; and GIO Director Tony Murphy.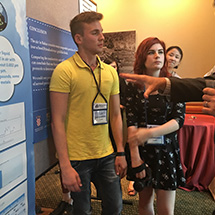 Now, the meeting was in full swing and for the next five days, the Rocky Mountain Park Inn was a beehive of activity with formal and informal meetings, the Student Research Exhibition and student centered events, and guest speakers, with networking opportunities all around.
Mary Hayden, of the National Center for Atmospheric Research (NCAR) gave the Keynote address on Vector Borne Diseases, with a focus on the threat of the Zika virus vector in the Americas. Her presentation echoed the concerns of the GLOBE community, already preparing to adopt a new mosquitos protocol for GLOBE observation and research among students and citizen scientists.
A menu of sessions gave participants the opportunity to select activities of relevance, including: a panel discussion on collaborating satellite missions and campaigns, protocol demonstrations associated with missions (CALIPSO, CERES, CloudSat, GPM, GOES-R, SMAP and Frost Tube), special opportunities for girls in STEM, and a share-a Thon for using and adapting Elementary GLOBE in the classroom.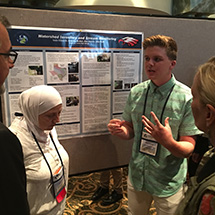 Student teams from Croatia, Japan, Mongolia, Oman, Taiwan, Thailand, and the United States presented posters about their research projects on the evenings of Sunday 17 July and Monday 18 July.
The evening of poster presentations was positively joyful. Not only were participants able to learn the details of the many fascinating student projects, but also all participants were free to meet and mingle and to begin the weeklong process of forming new friendships, alliances and opportunities for future GLOBE collaborations.
On Monday, 18 July, participants attended a Welcome Address from Estes Park Mayor Todd Jirsa, followed by a presentation about the complex ecosystem of Rocky Mountain National Park by Teresa Johnson of the National Park Service, meant to prepare all participants for their impending visits to the park.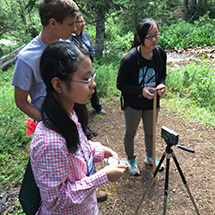 By midmorning, students formed a splinter group to attend an orientation on Rocky Mountain Park ecology and animal life, in preparation for the Student Research Experience, which would begin the following day. Adults convened to listen to David Overoye, and Cornell Lewis present about recently developed features on the GLOBE website, including eTraining and the new Data Access Tool, and to observe the presentation of undergraduate students from Bowling Green University in Ohio, discussing their involvement with the SMAP satellite mission. Throughout the remainder of the day, they were able to select from among several sessions of a wide variety of topics relevant to the GLOBE community.
Tuesday, 19 July was particularly exciting. it was time to do what the GLOBE community does best: get outdoors! To observe the local environment, collect and enter data using the new apps and learn new science protocols; everyone boarded vans into Rocky Mountain National Park! Students and their chaperones were off for two-day scientific exploration of the park with staff of the Estes Park Environmental Institute.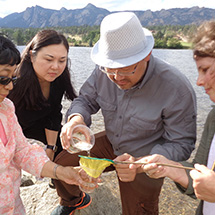 The adults would again select from a variety of learning experiences, from Science Protocol Trainings (including the popular and timely Mosquito Protocol) to concurrent sessions on topics of relevance.
For a glimpse of the full detailed agenda of the GLOBE 20th Annual Meeting, click here.
A vast collection of photos can be found here.
The final dinner, with many guests in lovely national dress, took place on the Wednesday 20 July. Following the dinner, GLOBE Program Director Dr. Ming Ying Wei announced her retirement to become effective at the end of this year. GIO Director Dr. Tony Murphy presented her with a commemorative plaque and extended his thanks, on behalf of the entire GLOBE community, for Dr. Wei's "clear vision and unwavering support" of the GLOBE Program since her involvement began in 2003. Dr. Wei's legacy is one of comradeship among nations, faith in teamwork, an abiding belief the long lasting benefits of scientific research, and a love for GLOBE and its community.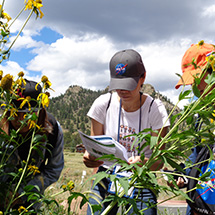 GIO wishes to thank our hosts in Estes, GLOBE Partners Deanna TeBockhorst and John Ristvey for their outstanding efforts to make this meeting a resounding success. Appreciation also to our Sponsors: Ming Ying Wei (NASA), Brandon Jones (NSF), and Supporters Christos Michalopoulos (NOAA) and the U.S. State Department. To all our sponsors, supporters, and to the many wonderful people who journeyed to Estes Park to join us for the 20th GLOBE Annual Meeting, we wish to say thank you and see you next year!
type: globe-news
News origin: GLOBE Implementation Office