U.S. Community: National Assessment Governing Board Seeking Qualified Candidates – Make a Difference in Education, Join the Board!
Sep 18, 2017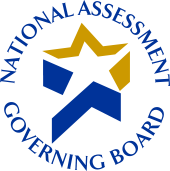 The National Assessment Governing Board – a diverse group of leaders from multiple sectors that sets policy for the National Assessment of Educational Progress (NAEP), also known as The Nation's Report Card—is seeking qualified candidates for five positions. Make a difference in education, join the board! Deadline is 31 October, at 5:00 p.m. EDT.
Created by Congress, the independent Governing Board provides a unique opportunity for dedicated individuals to have a lasting effect on student assessment at the national level. Each year, the Governing Board welcomes new members to lend their education expertise in service of our nation's students and maintaining NAEP as the gold standard of assessment. Members work to enhance NAEP's value as a resource that can be used to improve student achievement. The Governing Board is now seeking qualified candidates for five positions.
The National Assessment Governing Board — made up of educators, policymakers, parents, business representatives, and others — determines the content, frameworks, and achievement levels for NAEP assessments and pursues innovative ways to make NAEP results more meaningful and relevant to the public.
New Governing Board members will help lead groundbreaking efforts that are part of the Governing Board's Strategic Vision, a comprehensive initiative to focus the Governing Board's work through 2020 on expanding outreach and partnerships to increase the impact of NAEP.
Open positions:
Fourth-grade Teacher
Eighth-grade Teacher
Secondary School Principal
Chief State School Officer
General Public Representative
Nominate a colleague or yourself! Nominations can be submitted easily online by uploading the following information:
Personal statement
Curriculum vitae (CV) or resume
Letter(s) of support
Organizations and individuals may nominate one or more highly qualified candidates. To submit a nomination or learn more about the Governing Board, visit nagb.gov/join-the-board. If you have questions, please refer to these frequently asked questions or contact Lisa Stooksberry, the Governing Board's deputy executive director, at lisa.stooksberry@ed.gov.
Interested in sharing information about the 2018 call for nominations with your colleagues or organization? Resources, including a one-pager and social media content, are available for download.
type: globe-news
News origin: GLOBE Implementation Office