GLOBE Mission EARTH Teacher Webinar on 10 April (Student Webinar 13 April): "Climate Communications – Connecting the Classroom to Climate Change"
Apr 09, 2018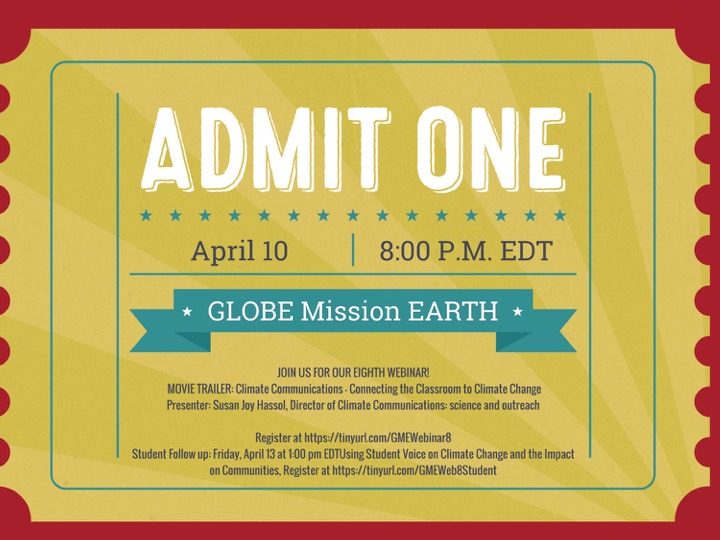 U.S. Community: GLOBE Mission EARTH (GME) will host a webinar on Tuesday, 10 April (8:00 p.m. EDT): "Climate Communications – Connecting the Classroom to Climate Change." A student follow-up webinar will take place on Friday, 13 April (1:00 p.m. EDT): "Using Student Voice on Climate Change and the Impact on Communities."
During this webinar, Susan Joy Hassol, Director of Climate Communications, will present some climate communication strategies that are simple and memorable. The event will include a discussion regarding how to make more effective use of imagery, metaphor, and narrative; in short, how to be a better storyteller of the most important story there is to tell.
To register for the teacher webinar (10 April), click here.
To register for the student follow-up webinar (13 April), click here.
GME is a collaborative of multiple institutions across the United States formed to increase involvement in The GLOBE Program. The mission is to improve education and involvement in science, technology, engineering, and mathematics (STEM) by increasing participation of students and citizens in The GLOBE Program. For more information on the GLOBE Mission EARTH campaign, click here.
News origin: GLOBE Implementation Office
---
Comments
Please
log-in
to post comments