New Case Studies Highlight the Integration of GLOBE and Eco-Schools in the Czech Republic
Jun 19, 2017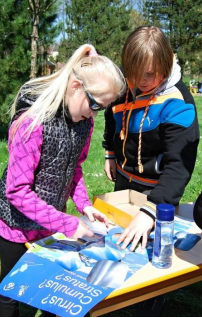 Seven new case studies demonstrate the integration of The GLOBE Program and Eco-Schools in the Czech Republic. GLOBE and Eco-Schools are working together to integrate high quality, 21st century, STEM and environment-based programs.
The GLOBE Program is in more than 115 countries. The Eco-Schools program is found in 60 countries around the world and reaches over 12 million students every year.
The following are the case studies, prepared by teachers in the Czech Republic who integrate GLOBE and Eco-Schools activities in their schools:
Case Study #1: Kadan High School: Using Eco-Schools to take care of a local stream
Case Study #2: Elementary school Bystrice nad Pernstejnem, Nadrazni 615
Case Study #3: Earth Day at Vítkov Elementary and High School
Case Study #4: Lukov u Zlina Elementary school
Case Study #5: Elementary school Ostrava, Nadrazni 117
Case Study #6: Elementary school Sokolovská Svitavy
Case Study #7: TGM Elementary school Moravske Budejovice Earth Day 2016
Click here to read the case studies.
Click here for more information about the GLOBE and Eco-Schools collaboration, and to find resources to help integrate GLOBE and Eco-Schools.
News origin: GLOBE Implementation Office
---
Comments
Please
log-in
to post comments