Participating in the GLOBE El Niño Campaign? Watch the Latest Video on How to Use the SMAP Overflights Tool
Aug 11, 2016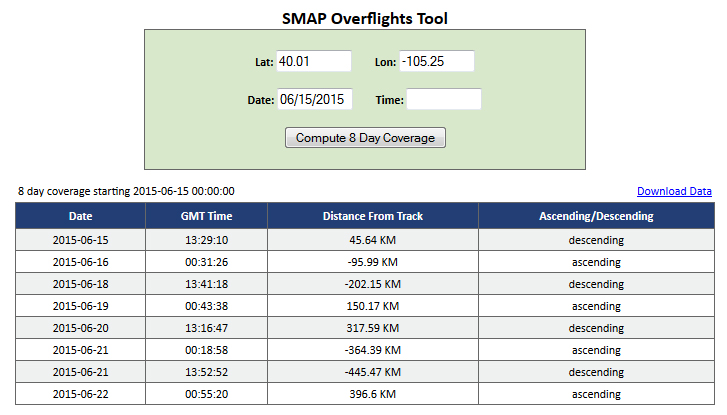 Brian Campbell, NASA Senior Earth Science Education Specialist and NASA Lead for the GLOBE El Niño Field Campaign has posted a video tutorial on how to correctly use the SMAP Overflights Tool.
A suite of six GLOBE measurement protocols (including the SMAP protocol) are serving as ways to identify environmental changes affected by El Niño. One of the protocols that the current GLOBE El Niño Field Campaign focuses on is the SMAP Block Pattern Soil Moisture Protocol. In order to answer some questions and concerns of campaign participants using this protocol, Brian Campbell has created a video tutorial that describes, step-by-step, how to use the SMAP Overflights Tool – which allows people to take the data that they have been collecting using the protocol and compare it to the satellite data from the SMAP Mission.
Comparing in situ measurements to the SMAP spacecraft measurements provides the SMAP scientists with necessary SMAP validation data. Collecting soil moisture data at the same time that the SMAP spacecraft is flying overhead collecting data makes for the best comparison. SMAP crosses the equator at approximately 6:00 a.m. and 6:00 p.m., meaning that the best time for soil moisture data collection might be in the morning or in the evening. The information received from the use of the SMAP Overflights Tool helps participants determine the best day and time for data collection.
Remember, throughout the campaign, regular guest blogs from scientists about how they study El Niño and teachers doing data collection with their students are being posted. In addition, there is information on the science of El Niño, how to participate in the campaign, analysis tools, numerous resources, and engaging discussion opportunities on the webpage. Keep checking back to discover what's new with the campaign!
Have you registered for the next GLOBE El Niño Field Campaign webinar: "El Niño Student Campaign Refresher and Update"? This webinar will take place on 21 September at 8:00 p.m. ET (12:00 a.m. 22 September UTC). Register today! Missed any of the campaign webinars? You can link to a recording and catch up today.
News origin: GLOBE Implementation Office
---
Comments
Please
log-in
to post comments